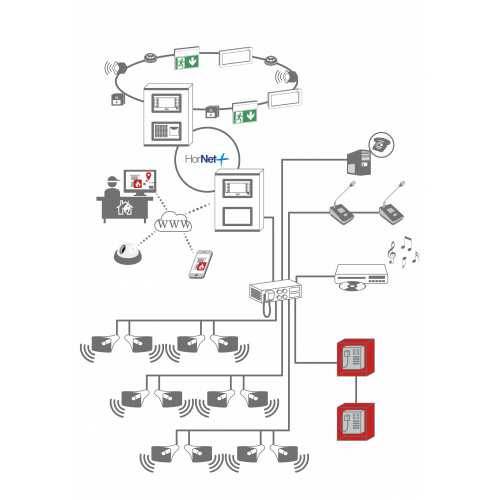 Voice evacuation systems
The growing demand for voice evacuation systems for use in conjunction with automatic fire detection and fire alarm systems has led Inim Electronics to sign cooperation agreements with some of the world's leading manufacturers of voice evacuation equipment.
Within the scope of these agreements, Inim has developed an innovative communication BUS between PREVIDIA MAX and EVAC equipment that allows you to actually combine the two systems into a single system, thus providing a level of integration and interaction that has never been reached before.
Putting the voice evacuation system at the service of the control panel. The advantages PREVIDIA MAX gains from the Inim-developed communication BUS are many:
both systems can be supervised by a single point (even from remote locations);
in the event of a fire emergency, routine sound broadcasts (background music, commercial announcements) stop instantly;
relevant messages are played on each zone (Warning, Evacuation, End of Emergency);
it is possible to create even complex evacuation plans, secure and swift evacuation can be coordinated by activating appropriate messages in the various areas related to the detected danger zone;
wiring, programming and maintenance are all greatly simplified.
For further details regarding Inim's VOICE EVAC offer, please refer to the relevant catalogue.