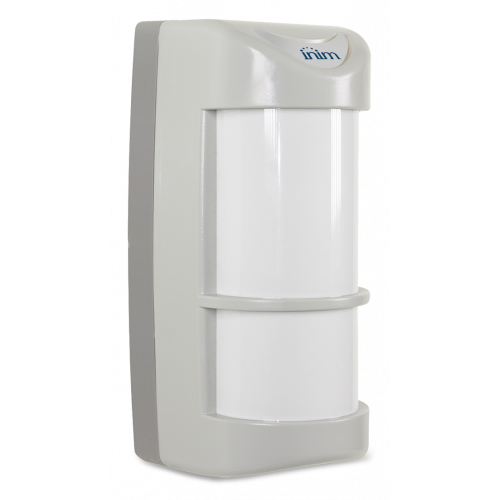 Air2-OTT100W
Wireless triple technology detector for outdoor use
Air2-OTT100W and Air2-ODI100W are wireless detectors suitable for outdoor installations.
OTT100W is an intelligent triple technology detector combined microwave and infrared with excellent immunity to false alarms.
Both devices are equipped with a horizontal range adjustment mechanism which also permits micrometric adjustment of the lower beam and provides, by means of the selection of the operating-mode, advanced signal processing with impressive catch performance and excellent immunity to false alarm sources such as pets. Besides the anti-opening and anti-dislodgement protections the
OTT100W and ODI100W include a vibration and tilt sensor for high-level protection against tamper attempts. The heavy-duty casing in polycarbonate has IP44 grade protection and is equipped with a UV ray resistant Fresnel lens.
The vast range of adjustment possibilities provide these wireless detectors with high flexibility and reliability and ensure they are capable of Air2-OTT100W / Air2-ODI100W responding to the various protection requirements of outdoor installations.
Technical features of the AIR2-OTT100W and AIR2-ODI100W Outdoor detectors

Communicates with Air2-BS200 transceiver

Two-way

Digital signal analysis

Yes

Protection range

3÷12m

Horizontal cover

60°

Protection

Anti-dislodgement and anti-opening; shock/tilt sensor

Bypassable LED

Yes

Protection Grade

IP44

Battery

CR17450 (2)

Battery life

4 years

Dimensions (LxWxD)

189x70x100

Weight

450g
Air2-OTT100W: wireless triple technology detector for outdoor use.
OTTBK200: inox mounting bracket kit, 2 "U" shaped brackets and 1 "L"-shaped bracke.
OTTCV100: weather proof cover.