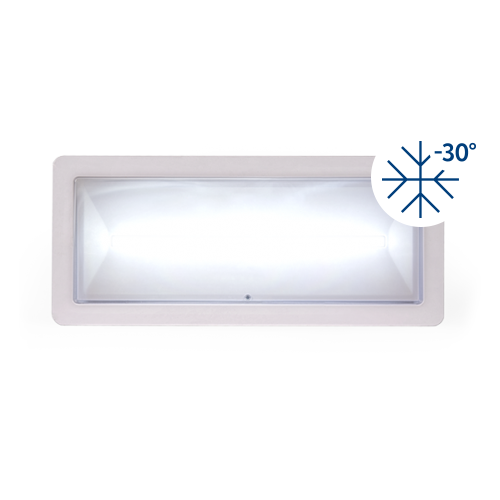 DEXIA ARTIC
High flux emergency lamp for environments with temperatures as low as -30°C
The Dexia Artic LED emergency lamp is the ideal solution for lighting and securing refrigerated areas, such as cold rooms and freezing rooms, with ambient temperatures as low as -30°C.
The EXTENDED TEMPERATURE LiFePO4 battery guarantees excellent performance even in the most extreme environments, whilst the 1000 1m luminous flux ensures optimal security in all areas subject to prescription. The rugged structure of the Dexia Artic is made of white self-extinguishing polycarbonate and its transparent cover is ultrasonically welded to guarantee maximum resistance.

Practical and versatile, with IP65 protection grade and latest generation LED light source, Dexia Artic offers powerful lighting and significant energy saving.

Available in various models to satisfy all installation needs.
Technical specifications

Installation

Wall, ceiling, flush to wall/false ceiling

Power supply voltage

220/230Vac, 50-60Hz

Battery

LiFePO4 3,2V

Insulation Class

II

Colour

White RAL9003

Light source

LED

Temperature colour

5700K

Cover

Ultrasonic welded polycarbonate

Additional information

Terminal dedicated to Inhibition function

Terminal dedicated to Stand-by mode function

IP Protection Grade

IP65

IK Protection Grade

IK07

Operating temperature

from -30C° to 50°C

Regulatory Compliance

EN 55015, EN 60598-1, EN 60598-2-22

EN 61000-3-2, EN 61000-3-3, EN 61347-1

EN 61347-2-7, EN 61547, EN 62471

Dimensions (mm)

Width

322

Height

140

Depth

50
ORDER CODE

VERSION

AUTONOMY

LiFePO4 3,2V EXTENDED TEMPERATURE BATTERY

PERMANENT (SA) -
NON PERMANENT (SE)

FLUX SE [lm]

FLUX SA [lm]

Temperature
work environment

IP RATING

Recharge

Compatibility
INICOM

DZSA36

Standard

1H-1,5H-2H-3H

2 x 3,3Ah

SE/SA

1000-800-650-500

1000

-30°C / +50°C

IP65

12H

✔

DZSA24

Standard

1H-1,5H-2H-3H

3,3Ah

SE/SA

510-410-340-260

510

-30°C / +50°C

IP65

12H

✔

DZAA36

Self-Test

1H-1,5H-2H-3H

2 x 3,3Ah

SE/SA

1000-800-650-500

1000

-30°C / +50°C

IP65

12H

✔

DZAA24

Self-Test

1H-1,5H-2H-3H

3,3Ah

SE/SA

510-410-340-260

510

-30°C / +50°C

IP65

12H

✔

DZBA36

Bus Supervised

1H-1,5H-2H-3H

2 x 3,3Ah

SE/SA

1000-800-650-500

1000

-30°C / +50°C

IP65

12H

DZBA24

Bus Supervised

1H-1,5H-2H-3H

3,3Ah

SE/SA

510-410-340-260

510

-30°C / +50°C

IP65

12H