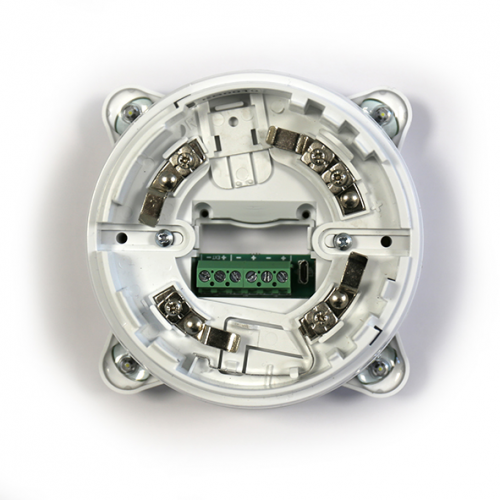 ISB1000
Non-addressable bases with visual-audible alarm indicator (driven by terminal R on the detector)
Bases with audible/visual sounder, non-addressable (driven by the R terminal of the detector) 
Base for Enea series detectors with audible/visual sounder, activated by the R output of the detector, IP21 Protection Grade.
For ISB10x0 versions, the EITK2000 manual programmer allows the selection of the alarm tone from the 14 tones available as well as the adjustment of the volume and flash intensity (only for models with visual alarm components).
For ISB10x1 low power consumption versions, selection of the tone, volume and flash intensity, where available, is achieved through the DIP switches.
For models with the voice alarm function, as well as the selection of the tone from the 14 tones available, it is also possible to choose from 16 voice messages in 8 different languages on-board the device and, by means of the EITK2000, customize the tones/voice messages. The device is powered via the Loop but is also equipped with terminals for an optional separate power input.
Tone

14 + 16 voice messages

Operating voltage

18 – 30 Vdc

Sound output @ 1m

MAX. 101 dB

Consumption ISB10x0 versions

From 10 to 40 mA (depending on the selected tone)

 

Visual coverage (EN54-23)

ISB10x0 versions

High power

C-3-10          O-4-10

Consumption ISB10x1 versions

LOW POWER

From 1.4 to 20 mA

Low power

C-3-9            O-3,5-9

Operating temperature

-20 - +70°C

Visual coverage (EN54-23)

ISB10x1 versions

LOW POWER

High power

C-3-8             O-3.3-8

Weight

190 g

Low power

C-3-8             O-3.3-8

Dimensions

110mm x 60mm

IP Protection grade

IP21
ISB1010 – Base with audible alarm indicator, non-addressable
ISB1011 – Base with audible alarm indicator, non-addressable low power

ISB1020 – Base with visual-audible alarm indicator, non-addressable
ISB1021 – Base with visual-audible alarm indicator, non-addressable low power

ISB1030 – Base with audible alarm indicator and voice functions, non-addressable
ISB1050 – Base with visual-audible alarm indicator and voice functions, non-addressable