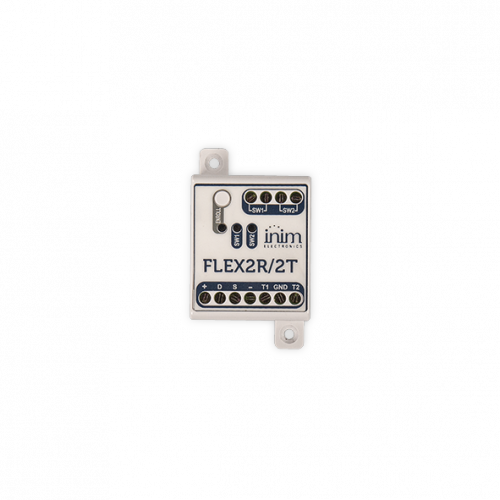 Flex2R/2T
On BUS module with 2 relays 230V, 5A and 2 terminals. Native management of roller shutters, Venetian blinds and light points.
Flex2R/2T is an extremely flexible home-automation expansion module.
It connects to the control panel BUS in the same way as any typical peripheral and can serve as a 2 output relay module, 5A (with interlock function) and 2 freely programmable input/output terminals.
Its distinguishing feature is that besides being able to manage autonomously the 4 terminals previously mentioned, it is possible to program the device in a further 11 modes, which include: native management of Roller Shutters, Venetian Blinds and Light Points. The device is capable of operating in accordance with its programmed settings even during BUS communication loss.
Flex2R/2T is also equipped with status indicator LEDs for the Relay outputs.

Main features


FlexIO terminals programmable either as inputs, also for management of shock sensors and roller shutters management, or outputs

2

Maximum absorption of FlexIO output terminals

50mA

Normally-open dry contact relay output terminals

2

Relay terminal features

Max. 10A @ 230V AC

Max. 5A @ 30V DC

I-BUS interface

Yes

Autonomous control of motorized roller shutters

Yes, 1 roller shutter with 1 or 2 buttons

Autonomous control of light points

Yes, 1 or 2 with switch or button

Perforated flanges for assembly

Yes, 2 detachable

Dimensions with flanges (W x H x D)

69 x 41 x 25 mm

Dimensions without flanges (W x H x D)

49 x 41 x 25 mm

Weight

40g