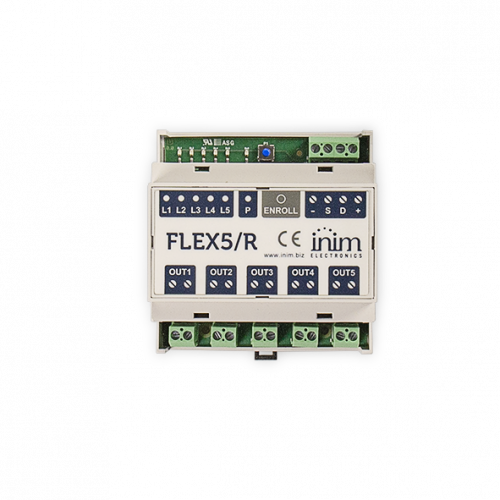 Flex5/R
On BUS module. 5 relays, 230V, 16A. Housed in a 5-module DIN rail box
The Flex5/R optional module provides INIM control panels with 5 additional Relay outputs.
Each Relay output can manage, by means of configurations programmed via the Control panel, both alternating and direct current loads up to a maximum of 16A. The device is designed for installation on a DIN rail and allows, also locally, verification of the status of the individual outputs.
These characteristics make it particularly suitable for home-automation applications.

Main features


Power Supply Voltage

from 9 to 15 Vcc

Current draw

250mA max.

Purely resistive loads:

Max. 16A @ 230Vac

Max. 16A @ 30Vcc

Incandescent lamps:

Max. 8A

Fluorescent lamps:

Max 0.5A

LED lamps:

100W @ 230Vac

30W @ 120Vac

Electronic transformers:

4A

Motors (cosφ min. 0.6):

3.5A

Voltage range connectable to OUTx outputs


Alternating Current

from 0 to 253Vac, 50/60Hz

Continuous Current

from 0 to 253Vcc @0,35°

from 0 to 28Vcc @10°

Operating environmental conditions


Temperature

from 10 to +40°C

Relative humidity

≤ 75% without condensation

Security rating

2

Environmental class

II

DIN rail mount

5 module enclosure

Dimensions (WxHxD)

88 x 90 x 58 mm

Weight

180 gr