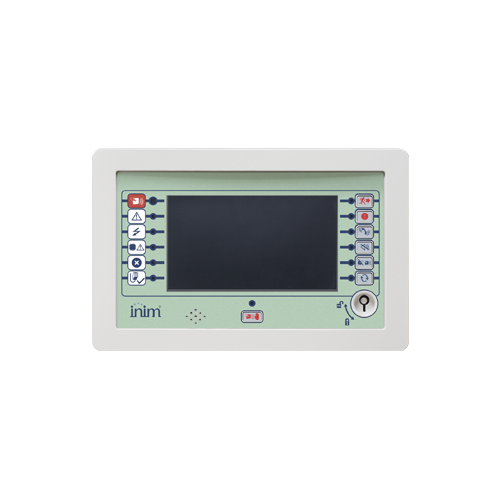 FPAMIAS
Main control module for EVAC functions
Main control panel for voice EVAC functions for the integration with the fire-detection control panels from Previdia Ultravox series. To be connected to the CANDRIVE+ bar inside the metal cabinets and equipped with a graphic colour touchscreen. The module allows you to manage and co-ordinate the various function modules assigned to it. A single Previdia Ultravox control panel can house only one of these units. Mounts to the front plate and, if housed in the upper opening, connects to the CANDRIVE+ bar. If housed in the lower opening, it connects to the FPM module in the upper opening.
Main features
Ethernet connection for remote control
Mini USB Port for configuration via PC
7'' touch screen, 65000 colours
Housing for μSD card
Customization of user interface, icons, buttons etc.
Connection with push-to-talk microphone and emergency telephone (optional) on the front panel
Monitor speaker for listening to audio sources
Status LEDs and function keys for evacuation management
Technical specifications of the FPAMIAS module


Power-supply voltage

19÷30Vcc

Consumption @ 27,6V

stand-by 110mA

Consumption during "Mains failure" conditions

stand-by 60mA

Operating temperature

-5°C ... +40°C

Dimensions

85 x 288 x 82mm

Weight

900g

Package dimensions


32,5 x 62 x 25 cm
For the certification documents, refer to the relative control panel page in which the module is installed.