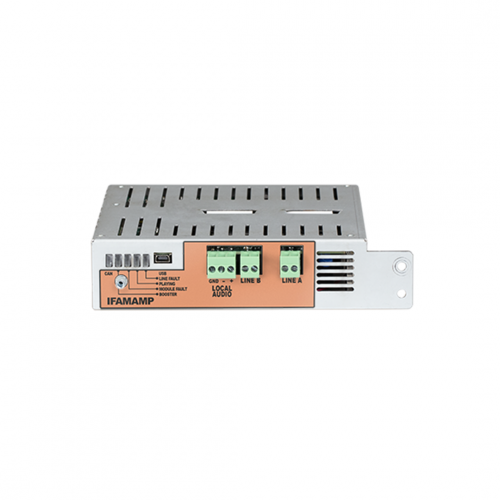 IFAMAMP
250W audio amplifier module
The 250W IFAMAMP audio amplifier module provides two lines for speaker connection configurable in A/B mode or in Loop mode, each line individually protected from short circuit. The impedance of the speaker line is supervised by a high frequency tone. Includes an analogue input for an audio source with adjustable priority for the amplifier line only. Automatic management of any backup amplifier included in the cabinet. Each control panel manages a maximum of 30 IFAMAMP modules (maximum 8 for each cabinet).

Main features
CLASS D AMPLIFIER
IT CAN BE PLUGGED INTO THE CANDRIVE+ BAR OF PREVIDIA ULTRAVOX CABINETS
MAX. 30 IFAMAMP MODULES PER CONTROL PANEL (8 PER CABINET)
OUTPUT VOLTAGE 100Vrms
MAX. POWER 250W
OVERLOAD PROTECTION
TWO TERMINALS FOR CONNECTING THE SPEAKERS ON TWO SEPARATE LINES (A / B)
EACH LINE IS PROTECTED SEPARATELY AGAINST SHORT CIRCUIT
CONFIGURABLE AS A LOOP CONNECTION (IAS-ISOL1000 ISOLATOR MODULES ARE TO BE ADDED TO THE LOOP)
CAN BE CONFIGURED AS A BACKUP POWER-SUPPLY 
LOCAL AUDIO INPUT WITH CONFIGURABLE PRIORITY FOR AUDIO SOURCES INTENDED FOR THE AMPLIFIER SPEAKER LINE ONLY
HOT ARMING / DISARMING ON THE CANDRIVE+ BAR
VOLUME AND 3-BAND EQUALIZATION SEPARATELY ADJUSTABLE FOR SOURCES SUCH AS MUSIC, VOICE ANNOUNCEMENTS, EMERGENCY
Technical specifications of the IFAMAMP module


POWER SUPPLY VOLTAG

20-30 Vdc (powered by the CANDRIVE+ bar)

TANDBY CURRENT CONSUMPTION

530 mA (14W)

ABSORPTION IN THE EVENT OF MAINS POWER FAILURE AND NO EMERGENCY

100 mA (2,5W) MAX

MAX. CURRENT DRAW

3A (250W + 14W)

SPEAKER OUTPUT VOLTAGE (LINE A / LINE B)

100 Vrms max

MAXIMUM LOAD ON SPEAKER LINES (LINE A / LINE B)

250 MAX. TOTAL - MINIMUM LOAD 40 OHM TOTAL

Vin LOCAL AUDIO INPUT

MAX. 1 Vrms (UNBALANCED – BETWEEN + and GND or BEETWEEN – and GND)

LOCAL AUDIO INPUT IMPENDANCE

10 KΩ

FREQUENCY RESPONSE

60 - 20000 Hz

SEPARATE VOLUME ADJUSTMENT FOR MUSIC SOURCES / VOICE / EMERGENCY ANNOUNCEMENTS

+10 / -40 dB

SEPARATE 3-BAND EQUALIZATION FOR MUSIC SOURCES / VOICE / EMERGENCY ANNOUNCEMENTS

+6 / -40 dB
For the certification documents, refer to the relative control panel page in which the module is installed.