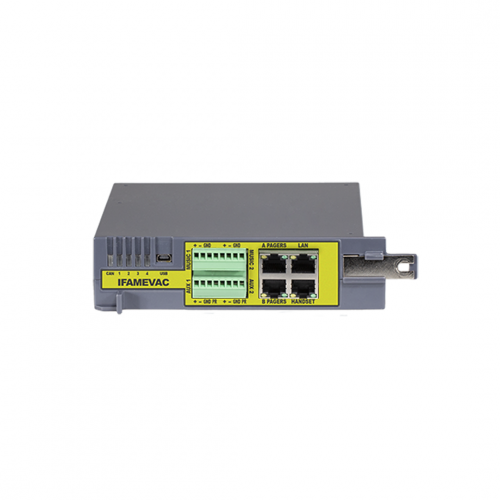 IFAMEVAC
IFAMEVAC Audio matrix module
The IFAMEVAC audio matrix module manages the digital processing of all audio sources. Provides N°2 analog inputs for external sound sources (MUSIC1 and MUSIC 2), N°2 analog inputs for external sound sources with priority request (AUX1 and AUX2), internal flash memory containing emergency messages and user-definable messages, SD Card slot for user-defined audio files, N°2 lines for standard or emergency microphone bases (max. 64 per line), connection to the Ethernet network for interaction with IASS and IAS-APP servers. Each control panel manages only one IFAMEVAC module.

Main features
connection in the CANDRIVE+ bar inside the control panel cabinet
hot arming / disarming (HOT SWAP)
MAX. ONE IFAMEVAC MODULE PER CONTROL PANEL
N° 2 ANALOGUE AUDIO INPUTS (MUSIC1 / MUSIC2) FOR EXTERNAL SOURCES
N°2 ANALOGUE AUDIO INPUTS (AUX1 / AUX2) WITH PRIORITY ENROLLMENT VIA THE "PR" INPUT OR VIA SIGNAL LEVEL
N°2 INPUTS FOR MICROPHONE BASE LINES (PAGER A / PAGER B) FOR THE CONNECTION OF STANDARD OR EMERGENCY BASES
MAX. 64 MICROPHONE BASES PER LINE 
ETHERNET / TCP-IP INPUT FOR UP/DOWNLOADING OF AUDIO MESSAGES AND CONNECTION WITH THE IASS SERVER
INTERNAL FLASH MEMORY WITH 4 MINUTES OF AUDIO PRE-CONFIGURED WITH EMERGENCY MESSAGES IN DIFFERENT LANGUAGES, CUSTOMIZABLE VIA CONFIGURATION SOFTWARE 
SD CARD MEMORY SLOT (NOT SUPPLIED) FOR ADDITIONAL AUDIO MESSAGES (COMBINABLE WITH PREDEFINED CONDITIONS, ACTIVATION OF INPUTS, TIMERS, ETC.)
RJ45 CONNECTOR FOR CONNECTION WITH PTT MICROPHONE AND EMERGENCY TELEPHONE, HOUSED ON THE FRONT PANEL OF THE CONTROL PANEL
VOLUME ADJUSTMENT AND 3-BAND EQUALIZATION OF EXTERNAL AUDIO SOURCES
Technical specifications of the IFAMEVAC module


POWER SUPPLY VOLTAGE

20-30 Vdc (powered by the CANDRIVE+ bar)

MAXIMUM CURRENT DRAW

100mA

MUSIC1, MUSIC2, AUX1, AUX2 Vin AUDIO INPUT

MAX. 1 Vrms (UNBALANCED – BETWEEN + and GND or BEETWEEN – and GND)

MUSIC 1, MUSIC2, AUX1, AUX2 AUDIO INPUT IMPENDANCE

10K Ω

AUX 1 AND AUX 2 PR INPUTS

CLEAN CONTACT TO GND

PAGER A/ PAGER B LINE

AX. 64 BASES PER LINE
For the certification documents, refer to the relative control panel page in which the module is installed.