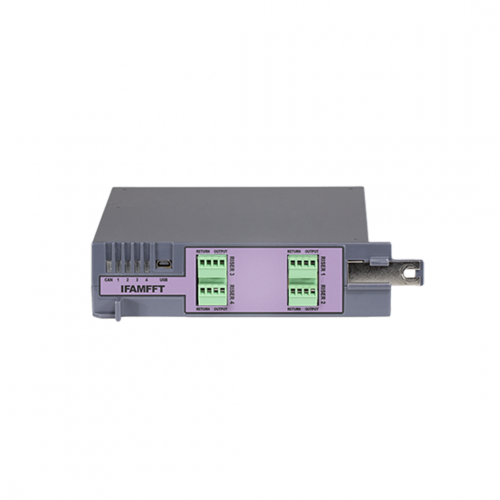 IFAMFFT
Module for the management of emergency telephones
The IFAMFFT module for the management of emergency telephones provides 4 lines for telephone connection (MAX. 64 for each Line). By picking up one of the telephones connected to the lines, the conversation request is notified on the front panel, the conversation can be accepted by operating on the display and it is possible to create a chat with a maximum of 4 incoming calls. Each control panel manages up to 4 IFAMFFT modules.

Main features
IT CAN BE PLUGGED INTO THE CANDRIVE+ BAR OF PREVIDIA ULTRAVOX CABINETS
MANAGES UP TO 4 EMERGENCY TELEPHONE LINES
UP TO 64 EMERGENCY TELEPHONES IN PARALLEL FOR EACH LINE
MAX. 4 IFAMFFT MODULES PER CONTROL PANEL FOR A MAXIMUM OF 16 EMERGENCY TELEPHONE LINES
LINE CONNECTION VIA TWISTED PAIR CABLE
Technical specifications of the IFAMFFT module


POWER SUPPLY VOLTAGE

20-30 Vdc (powered by the CANDRIVE+ bar)

MAXIMUM CURRENT DRAW

80 mA
For the certification documents, refer to the relative control panel page in which the module is installed.