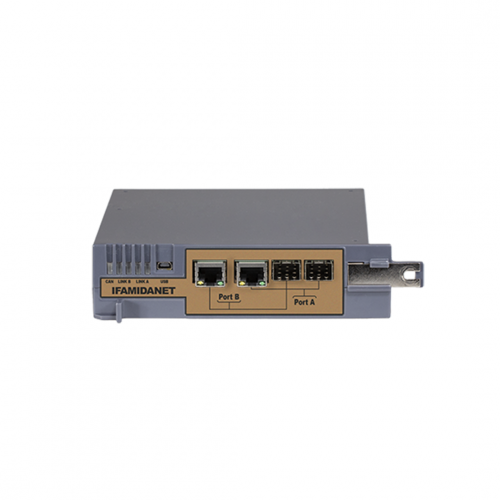 IFAMIDANET
Module for the connection in IDANET network
The IFAMIDANET module allows connection to the IDANET network of Previdia Ultravox control panels. Provides two RJ45 sockets for the connection via CAT5 Ethernet cable (for distances up to 100m) and two sockets for housing SFP modules for the fiber optic connection. It allows the connection of up to 48 control panels and can share, along with all the system information, up to a maximum of 20 audio tracks.

Main features
Module for network connection of a MAXIMUM of 48 PREVIDIA ULTRAVOX control panels
Ring connection (Token Ring)
Automatic network configuration
Each individual section can be completed via point-to-point Ethernet connection (MAX. 100m) with UTP CAT 5 cable or via optical fiber by adding an SFP converter (100 Base FX) to the appropriate sockets
complete sharing of information with control panels
sharing of UP TO 20 audio tracks with control panel 
automatic priority management of shared audio tracks
connection in the CANDRIVE+ bar inside the control panel cabinet
hot arming / disarming (HOT SWAP)
MAX. ONE IFAMIDANET MODULE PER CONTROL PANEL
Technical specifications of the IFAMIDANET module


POWER SUPPLY VOLTAGE

20-30 Vdc (powered by the CANDRIVE+ bar)

MAXIMUM CURRENT DRAW WITH ETHERNET CONNECTIONS

80 mA

MAXIMUM CURRENT DRAW WITH FIBER CONNECTIONS

80 mA + consumption SFP modules (@ 3.3V) divided by 7 (typically about 15mA x each converter)
For the certification documents, refer to the relative control panel page in which the module is installed.