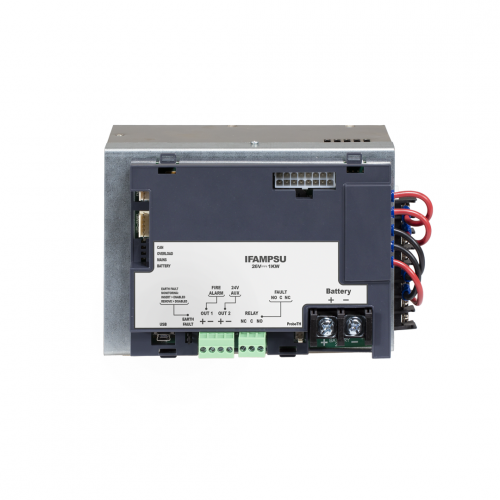 IFAMPSU
1000W Switching power supply module
The IFAMPSU power supply module connects to the mains and supplies the system with a maximum current of 40A. It houses a 3A battery-charger capable of maintaining under charge two 17Ah, 24Ah or 40Ah batteries. It has two supervised outputs and a configurable relay output (at factory default configured as Alarm output, AUX output and fault signalling relay). It accepts 230Vac or 115Vac 50/60 Hz input voltage. Only one power supply module can be housed inside each metal cabinet. Each control panel manages a maximum of 4 power supply modules (one for each eventual cabinet).

Main features
CPU dedicated to the control of the module and communication with the control-panel FPMCPU module
1 programmable relay
2 programmable supervised outputs
Extended Range Input (230V / 115V)
BUILT-IN BATTERY CHARGER
CONTROL AND MONITORING OF BATTERIES
EFFICIENCY UP TO 94%
Technical specifications of the IFAMPSU module


POWER SUPPLY VOLTAGE

90 ~ 264VAC
47 ~ 63Hz

MAXIMUM CURRENT DRAW

8.5A/115VAC
5A/230VAC

OUTPUT VOLTAGE

26Vdc NOMINAL +/- 10%

RIPPLE MAX

200mVp-p

POWER FACTOR

0.95 @ 230VAC / 0.99 @ 115VAC AT FULL LOAD

OVERLOAD PROTECTION

105 ~ 135% OF THE DECLARED POTENTIAL (CONSTANT CURRENT LIMIT, AUTOMATIC RESET TO THE RESET OF THE OVERLOAD CONDITIONS)

OVERVOLTAGE PROTECTION

29 ~ 33V

OVERHEATING PROTECTION

OUTPUT VOLTAGE SUSPENSION, REACTIVATION TO RESET TEMPERATURE

MAX. TOTAL CURRENT Imax b (according to EN54-4)

38 A

MAX CORRENTE CARICABATTERIA

3A

MAX. CURRENT DESTINED FOR THE Imax a SYSTEM (according to EN54-4)

35 A

MAX. CURRENT ON EACH OUTPUT (OUT1 and OUT 2)

1,5A @27.6V DC

Maximum voltage on RELAY

5A, 30V DC

CONSUMPTION OF BATTERIES IN THE EVENT OF MAINS NETWORK FAILURE

30mA
For the certification documents, refer to the relative control panel page in which the module is installed.