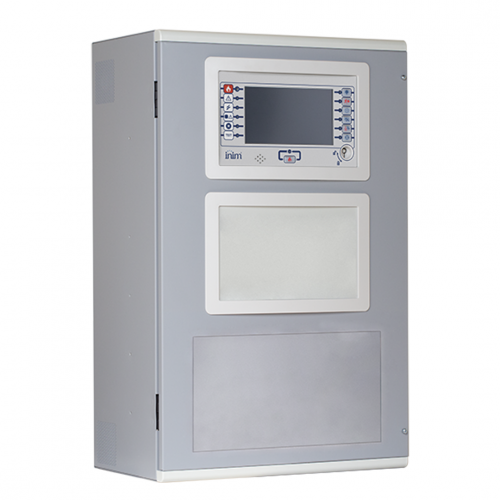 Previdia Ultra216 control panel
Basic modular control panel for fire protection systems
Control panel in single cabinet with fire detection functions. It is possible to add the FPM, FPAM, IFM and IFAM function modules. The cabinet, model PRCAB+, has no plastic door or housing for the PTT microphone and emergency telephone.
The control panel includes the modules:
FPMCPU, main CPU unit with display
IFAMPSU, power-supply module capable of supplying current up to 1KWatt at 27.6V
IFM2L - module for the management of two loop circuits for devices distributed in the protected area.
Main features
Fire detection and alarm functions (The same of the Previdia Max system)
Gas extinguishment-system management functions (The same of the Previdia Max system)

1000W power-supply (included) and expandable to 4000W (by adding the PRCAB+ cabinet)

IDANet network over Ethernet point-to-point or optic fiber, max. 48 Control panel

Possibility to connect up to 4 cabinets together (up to 3 additional PRCAB+)

Technical specifications of the Previdia Ultra216 control panel


Power supply voltage

90 ~ 264VAC
47 ~ 63Hz

Maximum current draw

8.5A @ 115VAC
5A @ 230VAC

Output voltage

26V DC NOMINAL
20 - 27,6 V

Output voltage on speaker lines

100 Vrms

Maximum current output by the power-supply module

38 A

Current available for the system

35 A

Maximum battery-charge current

3 A

Batteries

2 x 12 V 17 Ah
or
2 x 12 V 38 Ah

Operating temperature

-5°C .. 40°C

Maximum power manageable

1000W for each power-supply module (Max. 4000W with 4 cabinets and 4 power-supply module)

IP Protection grade

IP 30

Dimensions

67,5 x 43 x 26 cm

Cabinet colour

Gray RAL7042

Red RAL3001