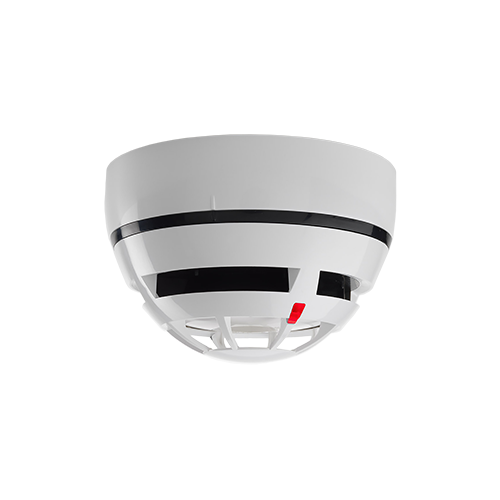 WD100 - Smoke detector
The WD100 detector, based on a double infrared detection optics (double reflection angle), provide fast smoke detection and high false alarm rejection. The detector is completely managed by the control panel where detailed information are reported.
The product is available in a black finish.

Specifications
Detection based on double detection (double reflection angle)
Compensation for contamination of the sample chamber
Two-way radio communication
Radio communication based on two redundant channels

Extended radio communication range (up to 200m)
Battery life 10 years
Uses low cost standard lithium batteries
EN54-25 and EN54-7 certified
Technical specifications
Radio Frequency:  868 – 870 MHz
Maximum radiated power:  14dBm (25mW)
Dimensions: 110mm x 70mm
Weight (without batteries) : 155 g
Batteries : 2x CR123A 
Operating temperature : -10°C to +55°C
MAX Humidity:  (non condensing) 95% RH
IP RATING: IP40
WD100: Smoke detector, in white.
WD100/B: Smoke detector, in black.