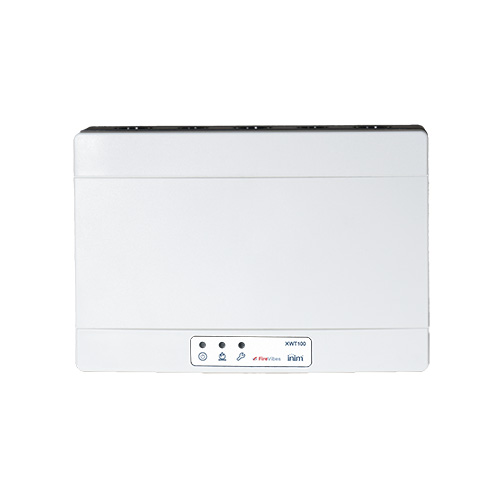 XWT100 - Radio expansion
XWT100 expansion module allows to increase the range and extension of the FireVibes radio system. Each expansion can manage a maximum of 32 wireless devices, each Fire Vibes system manages up to 15 XWT100 expansions.
The expanders automatically manage redundant paths (mesh network). Redundant paths are identified and tested during system commissioning. All expansions are fully monitored ensuring the highest levels of security are maintained.
The module is powered by a voltage of 24V.
Specifications
Expansion for EWT100 Traslators 
24 Vdc Power
Two-way radio communication
Each Traslator manage up to 15 expansions XWT100
Mesh network with redundant path to expansion modules
Internal antenna 
Up to 32 wireless devices managed on each expansion module up to a maximum of 128
Extended radio communication range (up to 1Km translators and expansion modules, up to 200m between translators/expansion modules and radio devices)
Radio links based on dual channel
Wireless devices completely managed individually by control panel
Device configuration via radio from keypad and Local display or via FireVibes Studio Software
Certificate EN54-18 and EN54-25

Technical specifications
Power supply voltage: 18Vdc – 30Vdc
Operating Frequency: 868 – 870 MHz
Maximum radiated power: 14dBm (25mW)
IP Rating: IP30 Approved- Designed according to IP65
Operating temperature:  -10°C to +55°C
MAX Humidity: (non condensing) 90% RH
Current consumption: 40mA (@ 24V dc)
Weight: 700 g
Dimension : 235 mm x 160 mm x 70 mm