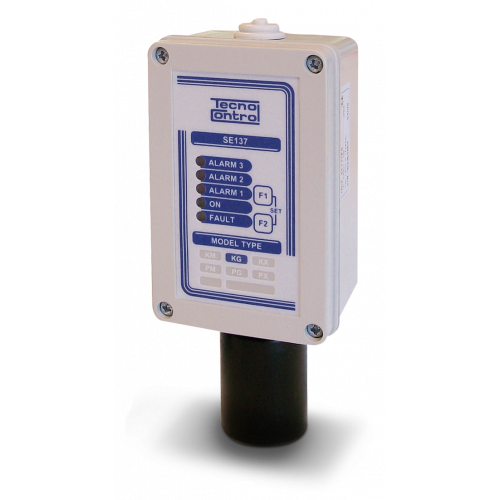 Elite
Gas detectors
The detectors from the ELITE series represent excellence in the field of gas detection, the multiple technologies available (catalytic, pellistor, electrochemical or infrared sensitive elements), the wide range of detectable gases, the ease-ofuse and trouble-free maintenance combined with the quality and reliability that distinguish these devices makes the ELITE series a unique product range of its kind.
Two buttons on-board each detector (F1 and F2) allow you to carry out tool-free calibration and maintenance operations.
Trouble-free maintenance allows you to directly replace the cartridge with the sensitive element without need of calibration.
The detectors are available in either IP55 or explosionproof enclosures for use in potentially explosive areas (II 2 G Ex d IIC T6 Gb)
3 relay OUTPUT + fault and 4-20 mA

4-20 mA module

Measuring Range

Replacement cartridge

Calibration canister

YEARS*

GAS DETECTED

Sensitive element technology

IP55

ATEX

IP55

ATEX

IP55

ATEX

Methane

CATALYTIC

SE137KM

SE138KM

TS292KM

TS293KM

0 - 20% LIE

ZSK02

ZSK02/EX

BO200

5

PELLISTOR

SE137PM

SE138PM

TS292PM

TS293PM

0 - 100% LIE

ZSP05

ZSP05/EX

BO200

5

INFRARED

TS293IM

0 - 100% LIE

BO200

GPL

CATALYTIC

SE137KG

SE138KG

TS292KG

TS293KG

0 - 20% LIE

ZSK02

ZSK02/EX

BO200

5

PELLISTOR

SE137PG

SE138PG

TS292PG

TS293PG

0 - 100% LIE

ZSP05

ZSP05/EX

BO200

5

INFRARED

TS293IG

0 - 100% LIE

BO200

Hydrogen

CATALYTIC

SE137KI

SE138KI

TS292KI

TS293KI

0 - 20% LIE

ZSK02

ZSK02/EX

BO200

5

PELLISTOR

SE137PI

SE138PI

TS292PI

TS293PI

0 - 100% LIE

ZSP05

ZSP05/EX

BO200

5

Petrol fumes

CATALYTIC

SE137KB

SE138KB

TS292KB

TS293KB

0 - 20% LIE

ZSK04

ZSK04/EX

BO200

5

PELLISTOR

SE137PB

SE138PB

TS292PB

TS293PB

0 - 100% LIE

ZSP05

ZSP05/EX

BO200

5

Ammonia

ELECTROCHEMICAL

SE137EA

SE138EA

TS220EA

TS293EA

0 - 300 ppm

ZSEA1

ZSEA1/EX

BO501

3

ELECTROCHEMICAL

SE137EA-H

SE138EA-H

TS220EA-H

TS293EA-H

0 - 300 ppm

BO501

Carbon monoxide

ELECTROCHEMICAL

SE137EC-S

SE138EC-S

TS220EC-S

TS293EC-S

0 - 300 ppm

ZSEC1

ZSEC1/EX

BO210

3

ELECTROCHEMICAL

SE137EC-H

SE138EC-H

TS220EC-H

TS293EC-H

0 - 300 ppm

ZSEC2/EX

BO210

2

Hydrogen Sulphide

ELECTROCHEMICAL

SE137EH

SE138EH

TS220EH

TS293EH

0 - 100 ppm

ZSEH1

ZSEH1/EX

BO470

2

Nitrogen Oxide

ELECTROCHEMICAL

SE137EN

SE138EN

TS220EN

TS293EN

0 - 300 ppm

ZSEN1

ZSEN1/EX

BO472

2

Nitrogen Dioxide

ELECTROCHEMICAL

SE137EN2

SE138EN2

TS220EN2

TS293EN2

0 - 30 ppm

ZSEN2

ZSEN2/EX

BO018

2

Oxygen**

ELECTROCHEMICAL

SE137EO

SE138E0

0 - 25 % Volume

ZSEO1

ZSEO1/EX

BO015

2

Sulfur Dioxide

ELECTROCHEMICAL

SE137ES

SE138ES

TS220ES

TS293ES

0 - 20 ppm

ZSES1

ZSES1/EX

BO418

2

3 relay OUTPUT + fault and 4-20 mA

4-20 mA module

Measuring Range

Replacement cartridge

Calibration canister

YEARS*

GAS DETECTED

Sensitive element technology

IP55

ATEX

IP55

ATEX

IP55

ATEX

Acetylene

PELLISTOR

SE138PE

TS293PE

0 - 100% LIE

ZSP02/EX

BO200

5

Styrene

PELLISTOR

SE138PS

TS293PS

0 - 100% LIE

ZSP03/EX

BO200

5

Hydrocyanic Acid

ELECTROCHEMICAL

SE137EHCN

SE138EHCN

TS220EHCN

0 - 10 ppm

ZSEHCN

B0479

2

Hydrochloric Acid

ELECTROCHEMICAL

SE137EHCL

SE138EHCL

TS220EHCL

TS293EHCL

0 - 30 ppm

ZSEHCL

ZSEHCL/EX

WR000

2

Special GASES (BY REQUEST)

CATALYTIC***

SE137KX

SE138KX

0 - 20% LIE

BO200

5

PELLISTOR***

SE137PX

SE138PX

TS292PX

TS293PX

0 - 100% LIE

ZSP05

ZSP05/EX

BO200

5

PELLISTOR****

SE138PX-H

TS293PX-H

0 - 100% LIE

BO200

5

INFRARED****

TS293IX

0 - 100% LIE

Carbon Dioxide

INFRARED

TS220IC2

TS293IC2

0 – 5% Vol

TS220IC2-H

TS293IC2-H

0 – 5000 ppm

CO + Petrol Fumes

(for parking areas)

CATALYTIC

TS255CB

ZSEC1 - ZSK04

BO200 / BO210

CO + Nitrogen Dioxide

ELECTROCHEMICAL

TS255CN2

ZSEC1 - ZSEN2

BO008 / BO018
* Average life in clean air (years)
** Not connectible as 4-20 mA to I/O terminals of SmartLine
*** Ethyl acetate, Acetone, Iso-Propil Alcool (IPA), Ammonia, Heptane, Hexane, Ethanol (Ethyl alcohol)
**** Acetone, tert-Butyl alcohol, n-Buthyl alcohol (1-Butanol), iso-Buthyl alcohol-2-Methyl-1-Propanol, Iso-Propil Alcool (IPA), Iso-Propyl alcohol (Propan 1-ol), Ammonia, Petrol (unleaded), Butane, trans-Butene-2 (trans-But2ene), But-1-ene, cis-Butene-2 (cis-But2ene), Cyclohexane, Decane, Heptane, Hexane, Ethane, Ethanol (Ethyl alcohol), Ethylene, Hydrogen, iso-Butane, iso-Pentane, Methane, Butanone (MEK), Nitromethane, Nonane, Carbon Monoxide, n-Octane