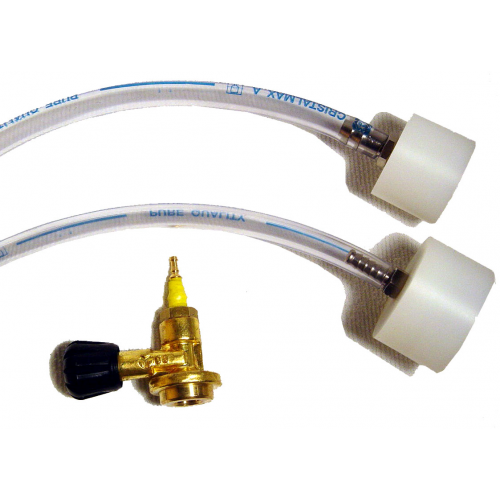 Industrial series Accessories
Accessories Industrial series Gas Detectors
INA55-701 - Gas detector to Android SmartPhone interface
Interfaces the gas detector to a Smartphone with Android operative system, allows you to read and change the detector parameters and simulate pre-alarm, alarm and fault status. Complete with CD containing the required APP.
INB55 - 1 litre tester canister for gas detectors
Functionality tester for gas detectors, to be used by qualified persons only, sufficient for approximately 8 tests.
INA55-104 - Valve for test cylinders
INA55-108 - Cup for test aerosol delivery
INA55-110 - Valve with Flowmeter
Disposable canisters

Gas

INB55-100

Propane 20% L.I.E.

INB55-101

Propane 40% L.I.E.

INB55-102

Methane 20% L.I.E.

INB55-103

Methane 40% L.I.E.

INB55-104

Hydrogen 20% L.I.E.

INB55-105

Hydrogen 40% L.I.E.

INB55-106

Acetylene 20% L.I.E.

INB55-107

Acetylene 40% L.I.E.

INB55-108

Carbon monoxide, 100 p.p.m.

INB55-109

Carbon monoxide, 200 p.p.m.

INB55-110

Oxygen 27% Volume

INB55-111

Isobutane 20% L.I.E.

INB55-112

Isobutane 40% L.I.E.
The detectors from the INDUSTRIAL series are manufactured using the most modern reflow and SMT construction techniques. They use the latest generation of microprocessor technology to deliver fast response and ensure accuracy and reliability.
The sensitive element is connected to an interchangeable device component which allows installers to replace the sensor cap (the part susceptible to wear and tear) without needing to recalibrate the device.
The complete product line includes a wide array gas leak detectors, all available in explosionproof or dustproof enclosures to satisfy even the most exacting requirements.
During the installation phase or maintenance sessions, you can interface INDUSTRIAL series detectors with a PC (via an INA55-700 interface) or Android Smartphone (via an INA55-701 interface) in order to configure the parameters, change the intervention thresholds, check the gas-level readings and/or simulate alarm, pre-alarm and fault conditions.
Selectable delays from 0 to 240 seconds for each individual threshold.
Reading compensation system in accordance with ambient temperature.
Replacement of sensor cap directly on-site without need of titrated gas canisters.
Connection to PC (via INA55-700 interface) or Android SmartPhone (via INA55-700 interface) for threshold, filter and delay settings, real-time Value Readings and simulation of alarm, pre-alarm and fault conditions.
Orders for Detectors must specify not only the type of enclosure, but also the type of gas, the technology of the sensitive element and the type of output interface. Following is a schematic representation of the order codes.