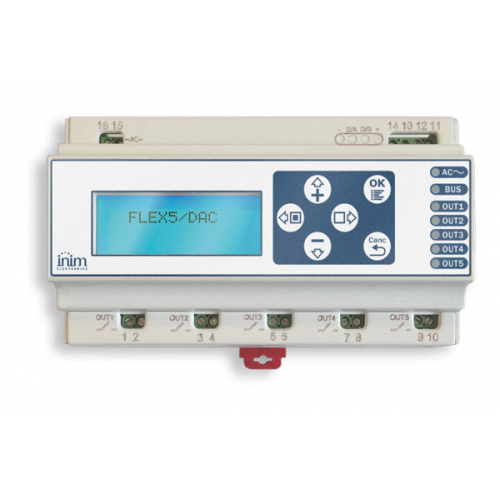 Flex5/DAC
5 output dimmer expander, 230V
Flex5/DAC allows full control of domestic loads.
Among these, appliances such as washing machines, dryers, ovens and dishwashers. The Flex5/DAC also allows control of other household facilities such as lighting and switches. For these facilities, the Flex5/DAC allows the adjustment of brightness thus providing perfect management of those household scenarios where illumination is a determining factor.
The board also allows control of the phase displacement between the current and voltage of each individual output, in such a way as to control any inefficiencies in the electrical distribution system.
The simultaneous management of several outputs by the Flex5/DAC also permits light colour adjustments.
Main features

Output terminals programmable as Relay, Triac ON/OFF or Dimmer

5

Operating range in AC

110-230V 50-60Hz

Maximum current draw for each output

cos φ=1 10 A (Relay); 3,5 A (triac ON/OFF and dimmer)

I-BUS Interface

Yes

Electrical quantity measurement for each output (max and rms)

Current, Voltage, Power

Power factor measurement (cos φ) for each output

Yes

Anti-opening protection

Yes

DIN rail mount

9 module enclosure

Dimensions (LxWxD)

88x158x58,5mm

Weight

300g