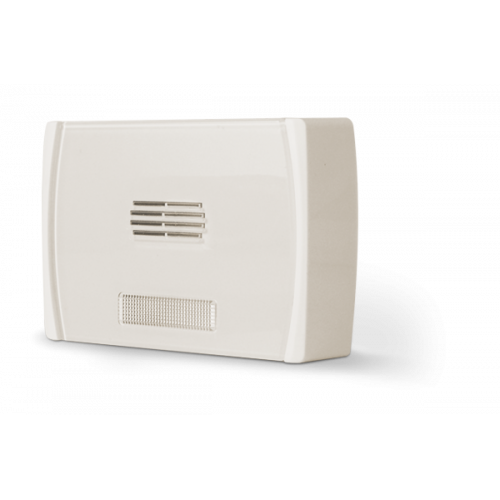 Smarty
Indoor sounder
The Smarty is fully microprocessor-controlled to ensure excellence in performance.

Uses piezoelectric sounder and super bright LED-tecnology flasher.
A direct move towards superior signalling features and low power consumption.
The device is tamper protected, and provides a sounder-shutdown input which allows the flasher to continue signalling.
Italian design, Italian technology, Italian style. With Smarty there is no losing out on performance. Italian quality at the best price.
Main features Smarty/GFR
Supply voltage: 24 V dc
Current consumption: MAX. 50 mA
Sound power (@ 24 Vdc - 1m) MAX 105 dB (A)
Light intensity: (1m) 25 lux
IP protection degree: 31
Operating temperature: 0/50 ° C
Dimensions (HxWxD): 75 x 112 x 30 mm
Weight: 110 g
Main features Smarty/SIB and Smarty/GIB
Power supply: 13.8Vdc
Current draw (max): 130mA
Sounder- modulation/shutdown input
Open-enclosure tamper protection
LED technology flasher ("G" version only)
Piezoelectric sounder
Sound output: 110 dBA @ 1 m
Light Intensity: 25lux @ 1m
Dimensions (HxWxD): 75x112x30mm
Protection rating: IP31
Operating temperature: 0°C to +50°C
Weight: 110 gr
Smarty/SIB: indoor siren, white color, 12Vdc powered
Smarty/GIB: indoor siren with flasher, white color, 12Vdc powered
Smarty/GFR: indoor siren with flasher, red color, 24Vdc powered