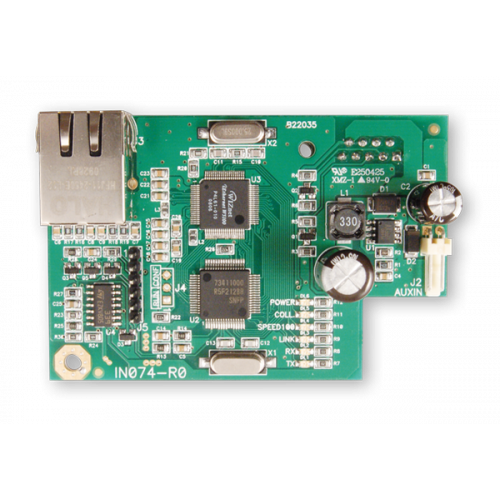 SmartLan/SI
Ethernet interface for connections to the Internet via TCP/IP protocol, provides SIA-IP protocol digital communicator
For those who do not require particularly advanced remote control capabilities but are interested in providing the SmartLiving control panel of simple connectivity features, INIM also offers a basic version of SmartLAN, the SmartLAN/SI.
This optional board makes available the remote programming and supervision functions from the local network and the Internet (using the SmartLeague and SmartLook softwares), the digital communicator toward the alarm receiving centres with SIA-IP protocol, the remote access via the AlienMobile app.
The use of SmartLAN/SI provides full access to Inim Cloud services.
Main features

SmartLAN/SI

Plug-in mounting to motherboard

Yes

Encrypted data

Proprietor

Connection to LAN Ethernet 10-100 Base T

Yes

System programming and control over IP using SmartLeague software

Yes

Static IP address management

Yes

Dynamic DNS management

-

Multi-connection management

-

Inim Cloud Connectivity

Yes

SIA-IP protocol digital communicator

Yes

Sends e-mails with attached files

-

SD card connector

-

Attached files saved to SD card (not included)

-

Manages SD card memory

-

Web server functions for PCs, Tablets and Smartphones:

Virtual keypad with AlienMobile user interface
Scenarios management,
Zone management
Partition management
View timer option
View events log option

-

Manages AlienMobile App

Yes

Dimensions (HxWxD)

54x81x30mm

Weight

45g