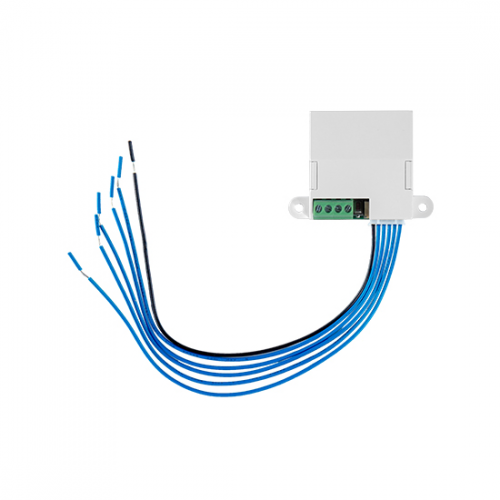 UM105H
Universal home automation module with 5 inputs/outputs
UM105H is the universal home automation module to manage smartly and flexibly the security and comfort functions of the home. Thanks to its small and compact size, it can be housed directly inside small junction boxes, saving valuable space.

The UM105H module enables the conversion of conventional electrical series switches into domotic commands for controlling lights, door openers, and other programmable features.

The module connects to the control panel BUS and has 5 programmable IN/OUT terminals available on a pre-wired connector, making installation quick and easy.

The UM105H is a simple and handy way to integrate a security system with domotic features, adding comfort and usefulness to the house.

Technical specification

Voltage

from 9 to 15V DC

Current draw

typical

20 mA

maximum

30 mA

Maximum current draw available for OC terminal

250 mA

Operating environmental conditions

temperature

from -10° a +40°C

relative humidity

≤75% without condensation

Security grade

3

Environmental class

II

Dimensions

with flanges

54 x 40 x 15 mm

without flanges

38 x 40 x 15 mm

wires

180 mm

Weight

15 g