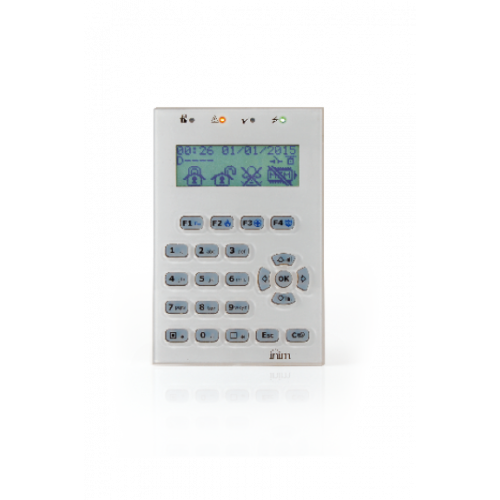 nCode/G
Keypad with backlit graphic display for Prime control panel
Keypad for Prime control panels.

nCode/G series keypads have glossy black or white casings with an attractive vertical profile.
The polished contour of this keypad conveys the certainty of the superior technology inbuilt in this product. The keys are always conveniently on view to ensure fast access to all functions. The 4 "Shortcut" keys, directly under the graphic display, allow easy control of the system and also operate as "Emergency key duos".
The nCode/G keypad is equipped with an input/output terminal and dislodgement and open tamper devices.
The keypad plays a major role in every intrusion-control system. It is the appliance which users deal with daily, therefore, ease of use is essential. Additionally, it is also part of the furnishings and must blend in perfectly with its surroundings. INIM keypads do just that. They skilfully combine first-rate technical features with an elegant design which flatters even the most exacting backdrop requirements.
The sleek casing and slimline key assembly considerably reduce overall size without giving way to reduced manageability. The explicit display icons clearly indicate the "Shortcuts" that transform normally time-consuming sequences into simple keystroke commands through the 4 function keys.
Main features table of the Inim keypads


nCode/G

Easy4U icon interface

Yes

Backlit graphic display

Yes

Easy4U voice interface

-

4 signalling LEDs

Yes

FlexIO terminals programmable as inputs or outputs

1

Input terminals accept rollerblind sensors

Yes

Mounts to "503" box

Yes

Brightness sensor

Yes

Microphone and speaker for:

• User menu voice prompts

• Message recording

• Message playback

• Intercom

• Answerphone

• Voice notifier

• Remote Listen-in

-

Card/Tag reader with 4 programmable "Shortcuts"

-

Chronothermostat function (manual, weekly, with anti-freeze function)

-

Dimensions (HxWxD)

129x87x16,5 mm
nCode/GN: keypad with backlit graphic display for SmartLiving system control, in black enclosure.
nCode/GB: keypad with backlit graphic display for SmartLiving system control, in white enclosure.