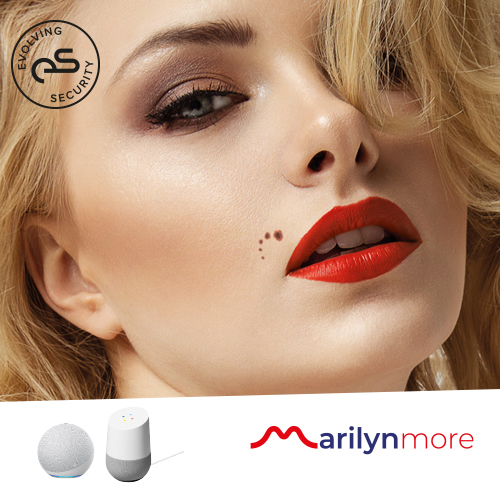 Marilyn More integrated voice system
Marilyn More: integrated voice-command, home automation and anti-intrusion system, based on the Prime and Sol control panels and integrated with the most widely used smart speakers (Google Home and Amazon Echo) and smartphones
Marilyn More: the new Smart Home voice-command, home automation and anti-intrusion system, based on the Prime and Sol control panels and integrated with the most widely used smart speakers (Google Home and Amazon Echo) and smartphones. Thanks to Marilyn More, every voice command is recognized instantly as a result of Smart Home technology and you can interact with ease with your Inim anti-intrusion/home-automation system.
Marilyn More is a flexible and extremely simple system to configure and allows fast integration of all the home-automation devices installed in your home.
Controlling and monitoring your anti-intrusion alarm system has never been easier: just associate your Inim account with your Google or Amazon* account and the job is done.
Marilyn More helps you when and where you need it. All, simply by voice command and all in complete freedom, with the new Smart Home mode you can manage all your systems, activate arming scenarios, get information on the system status, adjust lighting, activate home-automation outputs and set the temperature of an environment, even within automatic routines. Additionally, it is possible to view and interact with all the devices in the system through smart displays such as the Amazon Echo Show and Google Nest Hub.
Try Marilyn More for free and discover the charm of talking to your anti-intrusion system.
Google Home is a trademark of Google LLC. Amazon, Alexa and all related logos are trademarks of Amazon.com, Inc. or its subsidiaries.
Marilyn More Video Tutorial