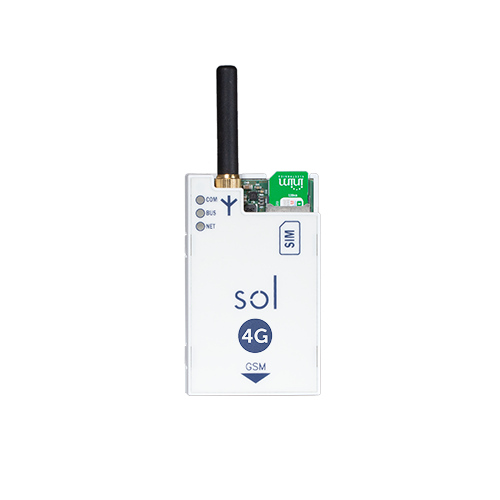 Sol-4G
Integrated 2G/3G/4G (LTE) module for Sol
The Sol-4G module provides connectivity to 4G networks and is designed to be installed in the appropriate slot inside Sol control panels. With Sol-4G anti-intrusion control panels can send automatic or customizable SMS texts for each event and can also receive commands given via SMS texts. Therefore, it is possible to activate or deactivate scenarios and outputs, as well as request the device status and much more.
Sol-4G is capable of connecting to the best network technology available in its place of installation, 4G/LTE, and when this is not available it automatically connects to 3G and 2G networks. The device manages VoLTE technology for voice communications, if made available by the operator. In addition to traditional voice and SMS communications, it allows data connectivity for remote control sessions and for connection to Inim Cloud.
Sol is the new completely wireless professional all-in-one control panel made by Inim. Sol is an easy-to-install, high-design intrusion alarm system capable of fully satisfying all the protection requirements of small residential and commercial premises, even though, thanks to its potential, it is also suitable for more challenging installations. A a modular structure control panel that allows you to manage wireless devices (PIR detectors, dual technology detectors, magnetic contacts, smoke detectors, outdoor sounder/flashers, keypads) by simply adding optional modules: PSTN, GSM, LAN and WiFi modules can be easily inserted into dedicated spaces inside the plastic enclosure where they can be hot-installed for advanced connectivity. The control panel is compatible with all Inim's wireless devices and also has an on-board relay and 2 additional terminals that allow the connection of detectors or wired devices. The central Sol has refined, low-profile aesthetic design features that make it suitable for all types of surroundings thanks to the 3 types of frontplate: 4.3" colour touchscreen, graphic LCD screen and capacitive touch keypad, LEDs only.
Getting the Sol up and running is incredibly quick and easy thanks to a simplified installation procedure based on the QuickGO technology on-board: the InimTech Security App allows quick programming of not only wireless devices but also of many operating parameters thus allowing you to get small installations running in record time.
The Sol is also connected to the Inim Cloud and offers installers and users full information and easy commands that can be activated in a single touch.
Let's talk about DoubleLink Technology: the entire wireless system is bi-directional.
Inim CloudReady: Inim Cloud connectivity for system management and user and installer Apps with push notifications.
WideConnect: PSTN, LAN, WiFi and GSM-3G connectivity.
Easy4User: remote controls, touch screen keypads, traditional keypads, AlienMobile App with multiple possibilities for effective and efficient use of the system.