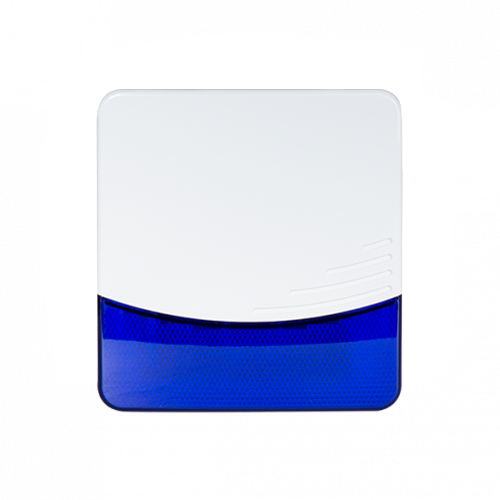 DS100
Self-powered sounder-flasher for outdoor use with intelligent charging system
The DS100 outdoor sounder-flasher combines design, ease of installation, efficiency and safety.
The audible and visual signals ensure a high degree of intensity regardless of the battery charge level.
The new intelligent charging system optimizes the backup battery voltage charge in accordance with the ambient temperature and protects it from the occurence of deep discharge: a solution designed to significantly extend battery life.

The DS100 sounder-flasher is easily programmable via internal buttons and offers a default configuration suitable for all installation needs.

Main features of the DS100 sounder-flasher
Optimization of battery charge based on temperature.

Battery deep-discharge protection.
Compatibility with all systems.
Lightweight and heavy duty plastic enclosure.
High intensity LEDs.
High efficiency sound emitter.
Easy installation and maintenance.
Anti-tamper system.
Technical specifications

Warning device type

For outdoor use, self-powered, type Z

Power supply voltage

nominal

13,8 V ⎓

range

da 9 V a 16 V ⎓

Backup battery

12V – 2.1Ah
UL94-HB flame class

Current absorption

during standby

50 mA

for battery recharge

50÷180 mA

maximum

220 mA

Acoustic output type

tones

Sound pressure at 3m

108 dB(A)

Carrier frequency

2÷3 KHz

Flash rate per minute

36

Maximum alarm-time

12 min.

Dimensions (HxWxD)

218 x 237 x 53 mm

Weight (without battery)

650 g

Operating environmental conditions

Temperature

from -25 to +60°C

Relative humidity

≤ 93% without condensation

Degree of protection

IP34

Security grade

2

Environmental class

IV
DS100/HBT: Self-powered sounder-flasher for outdoor use with transparent flasher
DS100/HBB: Self-powered sounder-flasher for outdoor use blue flasher