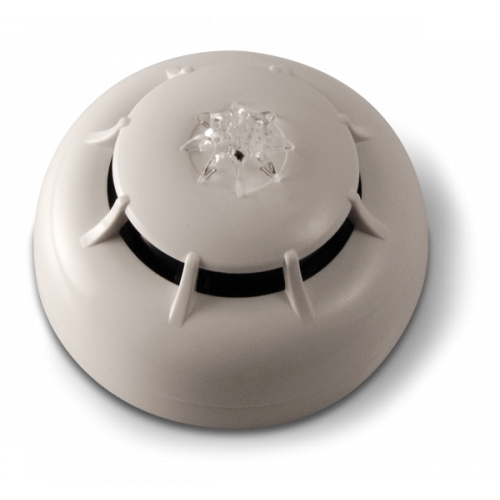 ID200
Heat detector
The response characteristics of the ID200 heat detector have been carefully set in A1R mode (fixed threshold at 58°C with thermovelocimetric detection). However, it can be set (by means of EDRV1000 driver) to operate in B mode (fixed threshold at 72°C); in A2S mode (fixed threshold at 58°C); in BR mode (fixed threshold at 72°C with thermovelocimetric detection).
As a result of such flexibility, this detector is useful in places where the environment is dusty or smoky and the risk of false alarms is high.
Black plastic enclosures available.

Iris series detectors maintain the ease-of-use of conventional detectors, yet are capable of providing a series of technical solutions that until today were provided by only the most sophisticated addressable analogue systems.
As a result of advanced technologies based on new-generation microprocessors, these detectors implement a set of sophisticated algorithms capable of ensuring unequalled reliability and a high immunity to false alarms.
The ground-breaking Versa++ technology incorporated in IRIS series detectors allows you to configure individual detectors to suit their specific environments and, when used in conjunction with the EITK1000 kit, to connect directly to the detector line for a complete diagnosis of each detector and thus test its operating capacity, verify its real-time values, view the contamination level in the optical smoke chamber and change its sensitivity and operating mode.
Each detector has a non-volatile memory which allows you to view the smoke and temperature levels measured in the period prior to the last alarm detected.
These detectors have passed - with flying colours - all the tests taken at the LPCB test facility, the prestigious English certification service.
Main Features

Newly designed optical chamber with sealed upper-part and 500 μm holes diameter mesh insect screen
Bicolour LED: Red for alarm; Green slow flash for standby (optional) and fast flash for trouble (fault or high level of contamination in the optical smoke chamber)
Drift compensation for sensor drift caused by dust in the chamber
Sensitivity selection for smoke and heat (by means of EDRV1000 driver)
Operating mode selection (by means of EDRV1000 driver for ID300 version): Only smoke; Only Heat; AND mode; OR mode; Plus mode
Complete Diagnostics: view the contamination level in the optical chamber and verify real-time values (by means of EDRV1000)
Memory of the smoke and temperature levels measured in the five-minute period prior to the last alarm detected
Vast range of options (selected by means of EDRV1000 driver)
Bypass plate on base guarantees continuity in the event of removal of the detector from the line
Parameter

ID100

ID200

ID300

Operating voltage

10-30 Vdc

Consumption during standby

90 uA

70 uA

90 uA

Consumption during alarm

Max 40 mA

Sensitivity

0.08 – 0.10 – 0.12 – 0.15 dB/m

A1R (58°C + RoR) – B (72°C) – BR(72°C + RoR) – A2S (58°C)

0.08 – 0.10 – 0.12 – 0.15 dB/m

-------------------------------------

A1R (58°C + RoR) – B (72°C) – BR(72°C + RoR) – A2S (58°C)

-----------------------------------------

Modalità AND – OR - PLUS

Operating temperature

-5°C + 40°C

Height including base

46mm

54mm

Diameter

110mm

Weight (with base)

160g

Weight (without base)

90g