14/01/2022
---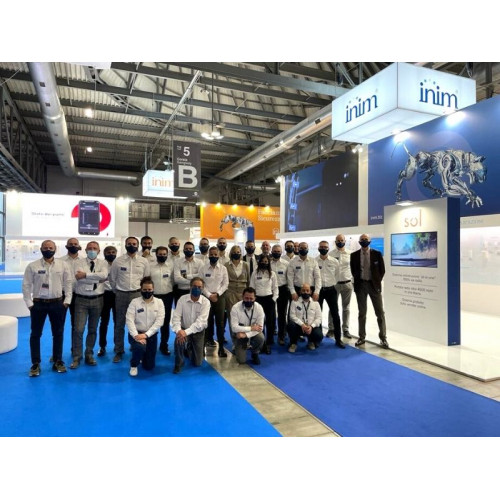 "Those who fail to accept the challenge have already lost". And it is with this powerful message that Inim faced its edition of the 2021 Fiera Sicurezza. It was a participation that, in more than a decisive way, gives support to the whole  sector, spurring it on to resume with determination the path of the commercial and technological growth and accomplishment underway in recent years. 
Moreover, It was a participation to protect the common value, for all players in this market, that Fiera Sicurezza represents a trade fair that is not only the sole Italian event of international breadth but which in the last decade has seen a continuously increasing turnout of visitors and exhibitors as well as an ever greater professionalization and internationalization. A value to protect, a value to invest in.
Moreover, just this year, and not by chance, Inim presented to the market the new payoff  "Evolving Security" to reaffirm the constant improvement in the technology and performance of Inim products and the innate vocation for increasingly structured innovation. 
It was with determination that we participated in Sicurezza. 

When talking about the new products presented at the fair, Inim has two "souls": the one relating to security and home automation and the one linked to "safety" and therefore to fire detection. 

In the realm of Fire, an important new product has been introduced, for us, but I would say for all the market: our EVAC/Public addressing system "ULTRAVOX".
The Previdia Ultravox goes to integrate the Previdia offer and stands alongside the Previdia Compact and Previdia Max control panels to complete our "safety" proposal. A proposal of excellence in every respect and a real reference point for all the market. A single system, the Previdia, to manage fire detection, fire extinction, gas detection, emergency lighting, public addressing and voice evacuation. Truly an all-round and "connected" IRAI system. The entire Previdia platform is in fact interfaceable with the Cloud and can be managed via the web or from the Inim Fire app. Connectivity not only for keeping situations under control in real time, for example through push notifications, but also for planning, managing and registering maintenance events or system faults. A truly unique system which in itself was worth the visit to Fiera Sicurezza 2021. 
But obviously we do not stop there. With so many other innovations for our visitors such as the new functions of the Prime control panel, our anti-intrusion and home-automation flagship, new products for home automation, wireless innovations and emergency lighting integrated with the other Inim systems. 

A rich proposal to resume the path of growth and success, ours, and of the entire sector. 

For Inim, the 2021 edition of Sicurezza was a real success. The numerous visitors confirmed Inim as a market leader.