11/01/2018
---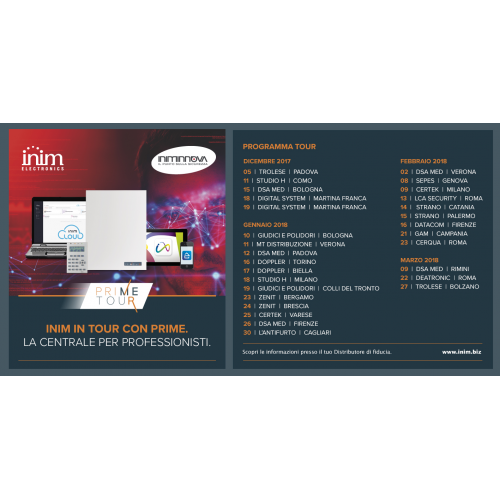 With the Prime central panel, Inim Electronics creates a completely new Italian platform with great potential for development. A novelty in the market with cutting-edge features, advanced technology and suitable for any context.
Inim organizes in collaboration with its official distributors of training meetings to present the Prime central panel to installers throughout Italy.
The birth of Prime paves the way for a new generation of Inim installer: Identified Installer, a figure that allows, once entered the category, to access a series of advantages and privileges.
Inim has always supported its distribution chain and gives the right tools for its customers.
Prime is available in 3 models from 10 to 240 terminals with integrated network card and compliant with EN50131 grade 3. Prime is compatible with all existing Inim devices, can be natively managed by Inim Cloud, and is capable of intrinsically secure upgrade. Visit the site pages dedicated to Prime!