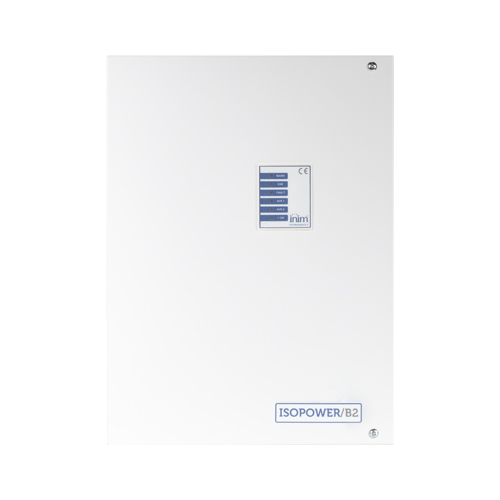 ISOPOWER
On BUS power supply station for alarm systems
ISOPOWER is the auxiliary power station designed to meet the needs of complex anti-intrusion systems or systems consisting of multiple installations, to enhance their capabilities.
A fully integrated solution with connection via BUS to the anti-intrusion control panel that allows complete and constant monitoring of the station itself and of the individual internal elements. The device features a BUS isolator to protect against any malfunctions, furthermore, the two sections, from the control panel and in direction of the field, are galvanically isolated.
2 12V auxiliary power supply terminals commanded by control panel events, 1 permanent 12V terminal, 3 open-collector terminals for signalling faults to external devices, front panel with 6 signalling LEDs: ISOPOWER has highly advanced features and technologies to obtain maximum reliability of the alarm system.
Technical features

 

ISOPOWER/B2

ISOPOWER/B5

Stations connectable to control panel BUS

10

Maximum current for the field

12V@2A

12V@5A

Maximum current for the backup battery

1.2A

Backup battery

12V  7Ah

12V  18Ah

Power supply terminals controlled by the control panel

2 (AUX1, AUX2)

Permanent power terminals

1

Open-collector signalling terminals

3

mains failure

generic faults

overcurrent

Front panel signaling LEDs

6

Mains failure

Device operating

Generic fault

AUX1 terminal: status + faults

AUX2 terminal: status + faults

+12V terminal: status + faults

Regulations

EN50131-1      EN50131-6

Security rating: 3

Dimensions

27,5x37,4x8,6 cm

37,5x46,6x9,2 cm

Weight

3,2 Kg

5 Kg