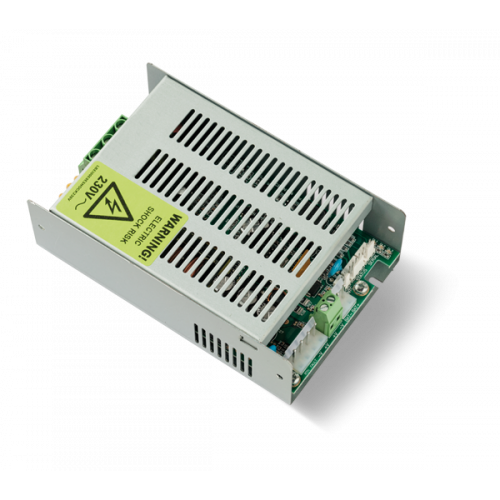 IPS12060G
Power supply, 2,5A+1,2A, 13,8V with separate battery charger
Power Supply Module - 3,7A
Input Voltage: 230Vac -15% +10%, 50-60Hz
Absorption from mains: 0,5A
Output Voltage: 13,8Vdc
Maximum output current: 2,5A+1,2A (model G); 3A (model S)
Stability: higher than 1%
Over-voltage protected
Short-circuit protected
Output voltage variations based on temperature (manages ProbeTH thermal probe)
Separate battery charger circuit (G model)
2 OC fault outputs (G model)
3 signalling LEDs (G model)
Metal casing
Inim offers two switching power supply/battery charger units: the 3A model and the 5A model.
Each model is available in an "in-box" version. The device comprises a switching power supply module housed in a metal casing that accommodates two 12V batteries. It is an ideal solution for installations where supervision of all the power supply components is not essential.
All models provide a thermal probe input. The thermal probe protects the batteries against overheating and consequent permanent damage by measuring the battery temperature and regulating the power supply output voltage accordingly.