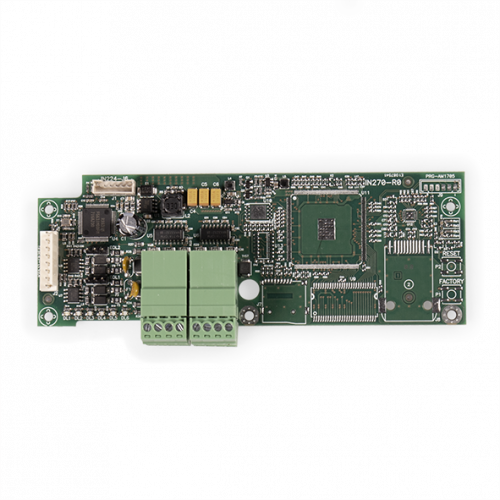 Previdia-C-COM
Opzional module for serial communicators
Optional Module PREVIDIA-C-COM, to be installed inside PREVIDIA COMPACT cabinet, provide two RS232 Ports and two RS485 Ports for remote communicators using following listed protocols.
The analogue control panels from the Previdia Compact range are the perfect solution for small to medium installations, they combine the innovative features of the Previdia Max system with user-friendly operation inside a compact cabinet.
Programming from the display through the clear and intuitive user interface minimizes system activation and maintenance times, making Previdia Compact the ideal choice.
| | | | |
| --- | --- | --- | --- |
| Protocollo di comunicazione | Disponibile sulle porte RS232 | Disponibile sulle porte RS485  | Descrizione |
|  ESPA444  | YES |  NO | Protocol for interfacing with switchboards to pagers, third-party remote communicators |
|  PASO | NO | YES (some models require both RS485 ports) | Protocol for interfacing between the control panel and EVAC |
| WEB WAY ONE  | YES  | NO | Protocol for interfacing with WEB-WAY-ONE remote communicators |
| SMART-485-IN | NO | YES | Communication protocol with the Inim Electronics SMART-485-IN module which allows connection to the standard interface panels required in some countries. |
| LOG SU SERIALE - ASCII PRINTER | YES | NO | Sends real-time events in ASCII format to the port (to a printer or receiving devices) |
|  LOG SU SERIALE- SMART LOOP FORMAT | YES | NO | Sends real-time events to the port in the format used by SmartLoop series control panels |
Technical specification:
- Compact analogue-addressable control panel, capable of managing 1 loop of 64 points, 1 loop of 240 points or 2 loops of 240 points (depending on the model).
- Multiprotocol, manages Inim, Apollo and Argus security protocols on the loop.
- 1.5 A or 4 A integrated power supply (depending on the model).
- Integrated battery charger of 7 Ah or 17 Ah (depending on the model).
- Sturdy metal cabinet with frontplate in plastic.
- Terminals for the HORNET+ network connection with other control panels or remote keypads integrated on board.
- On-board Ethernet connection for remote management, networking between control panels or connection to BMS monitoring software, MODBUS protocol over TCP-IP available.
- USB port for the configuration.
- Management of a micro SD card for the display of topographic maps, saving and retrieving of configurations, storing of the events log.
- 4 on-board I/O channels configurable as 1 A supervised power outputs, supervised inputs.
- On-board configurable relay.
- 4.3" colour LCD graphic touchscreen.
- Silicone function keys for basic functions.
- 30 multicoloured LEDs included (depending on the model) for signalling the status of the 30 zones, or configurable.
- Management of a gas-extinguishing channel (depending on the model) certified EN12094-1.
- Programmable from the frontplate or via the Previdia/STUDIO configuration software available on the Inim website.
- 1000 configurable zones.
- 1000 groups of outputs for activation logics.
- Logical equations for the definition of the most complex activation conditions.
- Timers for the timed management of activations, bypass operations, etc.
- Log for the last 2000 event.
- Manages up to 100 access codes.
- Customizable display with images, icons indicating the status of the various elements, text and function buttons.
- Management of evacuation matrices.