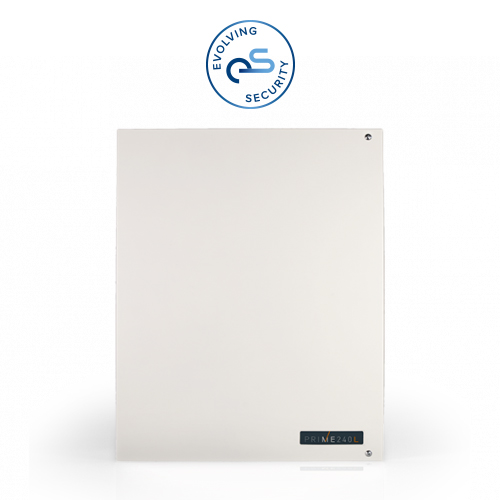 Prime 240L
Anti-intrusion control panel from 10 to 240 terminals, 30 areas, 6.2 A power supply
TCP – IP connectivity, optional GSM / GPRS connectivity and compliant with EN50131-6 and EN50131-3 grade 3.

The Prime, INIM's design evolution towards a system for medium and large residential applications. The expandable modular anti-intrusion and home-automation control panel.
Available in various models, the Prime is an innovative platform that meets all the current standards required for intrusion detection, burglar alarm and home-automation systems. A vast variety of optional modules allow you to expand systems, customize interfaces for end users and adapt the system behaviour to suit the needs of both the installer and customer. Residential applications, especially medium-high range as well as commercial and industrial applications, are to be counted among the typical applications of the Prime system, particularly in situations where connectivity is of principal importance. In fact, the Prime is natively managed by Inim Cloud thanks to the network card on-board on the control panel. Just connect the control panel to the system router and it will reach INIM Cloud automatically thus eliminating procedures for the connection of the control panel to the outside world. Connection to INIM Cloud is not mandatory but guarantees a series of additional services for both the installer and end user. Both will have Web access and will be able to manage their systems from any browser.
The Prime allows real-time control and management of installations through dedicated Apps, the InimTech Security App for installers and the Alien Mobile App for end users. When the control panel is connected to INIM Cloud both Apps are capable of providing push notifications to the installer or end user with content characterisation for the two profiles. Integrated LAN connectivity offers additional services such as NTP for automatic date/time updates.
In addition to LAN connectivity, the Prime offers GSM/GPRS connectivity for connection to INIM Cloud and for traditional signals (telephone calls, SMS). It is to be noted that among the connectivity features is the PSTN interface on the motherboard that guarantees the sending of voice calls and report calls to traditional alarm recieving centres.

The Prime integrates a USB interface on the motherboard usable as the LAN interface for the programming and monitoring of the control panel. Prime control panels are capable of detecting and managing a large number of events, not only alarms but also faults, tamper, code/key recognition and arming operations, in response to which it can be programmed to activate visual/audible signals or messages (voice, telephone calls, SMS, e-mails with attachments or push notifications). The Prime provides automation functions such as programmed arm/disarm operations, activation and deactivation of chronothermostats and outputs. Output management is enhanced by the possibility of dimming 230Vac loads. The Prime also has an optional LAN board, Prime/LAN, with webserver functions, graphic maps, e-mail and ONVIF video surveillance capabilities that make it even more complete. The Prime guarantees certified security at a maximum level. The system complies with EN50131 Grade 3 and EN50136 ATS-6: the highest grade also as an alarm reporting system. It should be noted that thanks to its user interface and contextual support and the persistent alarm feature, the Prime makes operations much easier for the end user.

Main features of Prime systems


PRIME

60 S / 60 L

120 L

240 L

500 L




Hardware features


Maximum number of terminals and number of mappable

or relocatable terminals in the system (note 3)

60*

120*

240*

500*

On-board terminals (which can be configured as input/output)

10 (10)

Programmable relays on the main board

Yes

Programmable open-collector outputs on the main board

 2

Programmable 12 V outputs

 2 (AUX 1, AUX 2)

Manageable partitions

10

20

30

30

Integrated IP connectivity

Yes

Integrated SIA-IP digital communication standard

Yes

Housing for Flex5 expansion board in the enclosure

Yes

Housing for NEXUS device in the enclosure

Yes

Power supply: maximum current for the field devices

2.5 A

5 A

5 A

5 A

Power supply: maximum current for battery recharge

1.2 A

1.2 A

1.2 A

1.2 A

USB port

Yes

Battery-charge monitored by battery temperature sensor

Yes

Battery efficiency test

Yes

AlienMobile and AlienMobile+ User Apps for smartphones or tablets (Android/iOS)

Yes

InimTech Security Installer App for smartphones or tablets (Android/iOS)

Yes

Cloud functions with Inim Cloud services

Yes

Reprogrammability of control panel firmware

Yes

Battery housing

Yes

Dimensions cm (WxHxD)

27.5x37.4x8.6

37.5x46.6x9.2

37.5x46.6x9.2

37.5x46.6x9.2

Weight (without battery)

3.2 Kg

5 Kg

5 Kg

5 Kg




Devices on I-BUS


Self-learning of peripherals on the I-BUS

Yes

Joy, Concept, Alien/S, Alien/G, Aria HG keypads (note 1)

10

15

30

30

nBy proximity readers

20

30

30

60

Flex5 5-terminal expansion boards

100

Ivy sounder/flashers

10

Air2-BS200 transceivers (with automatic channel search)

20

30

30

30

Nexus communicator

1




Air2 series wireless devices


MC200, MC100 and MC300 magnetic contacts, IR100 and XIR200W infrared detectors, XDT200W and DT200T dual technology detectors and FD100 smoke detectors (note 3)

60

120

200

200

ARIA/W wireless keypads for each BS200 (note 1)

4

HEDERA wireless sounder/flashers for each BS200

4

Remote control keyfobs (KF100, KF-Pebble, KF-Ergo) (note 2)

100

200

300

500




Authentication


Installer codes

2

User codes (with associated timers)

100

200

300

500

nKey tag or nCard proximity card (with associated timers) (note 2)

100

200

300

500




Telephone communication


Telephone numbers

15

Integrated Cloud channel

Yes

Phone line availability check

Yes

Automatic voice communicator (SmartLogos30M option,

see also voice functions)

Yes

Integrated automatic digital communicator (ContactID, SIA, pulses)

Yes




Input terminals (zones)


Self-learning of zone balancing •

Yes

Management of two separate zones on each input terminal

Yes

Input terminals on the control panel for shock and roller blind sensors

10

Input terminals on keypad for shock and roller blind sensors

2 for Joy and Aria/HG, 1 for Concept, 1 for nCode/G

Input terminals on expansion board for shock and roller blind sensors (out of 5 available as input/output)

4

Thresholds of programmable input zones

Yes

Calibration of input thresholds •

Yes




Additional functions with optional components


Advanced voice functions with SmartLogos30M board

Yes

GSM functions with Nexus, Nexus/G, Nexus/3G and Nexus/4G modules

Yes

GPRS functions and SIA-IP connectivity with Nexus/G, Nexus/3G and Nexus/4G modules

Yes

Web-server, e-mail, ONVIF cameras, KNX IP standard with PrimeLAN board

Yes




Other features


Weekly timer with two time slots per day (each with 15

exception periods)

20

40

Manual, daily and weekly programmable thermostats with antifreeze feature (Joy/MAX, Alien/S, Alien/G, Aria/HG)

10

15

30

Programmable events with timer and counter management

30

50

60

Management of summer/winter time

Yes

Automatic date/time update with NTP

Yes

Programmable arming scenarios (settings for partition status and output status)

30

50

Types of shortcuts for immediate actions

38

Programmable icons

80

Number of events that can generate actions

8996

Events that can be stored in the register

4000

Choice of events to memorize

Yes

Management of shortcuts via function keys (12) and number keys (10) on Joy, Aria/W and Aria/HG keypads

Yes

Management of shortcuts via LEDs (4) on nBy readers

Yes

Event-based action generation matrix

Yes

Generation of action when the event occurs

Yes

Generation of action when the event restores

Yes

Zone test from keypad

Yes

User-friendly programming software (runs under Windows)

Yes




Certifications


EN50131-3

Grade 3

EN50131-6

Grade 3
* Total number obtained by adding up the hardwired terminals, the wireless terminals and the virtual terminals.
• Patent pending.
1 The sum of the keypads on the I-BUS and ARIA/W wireless keypads must be <= 10, 15, 30, 30.
2 The sum of the remote-control keyfobs and tags must be <= 150, 200, 300, 500.
3 The sum of the hardwired and wireless terminals must be <= 60, 120, 240, 500.