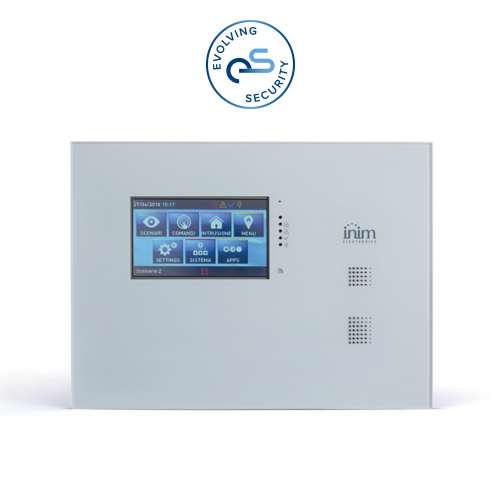 Sol/P
Sol System control panels with frontplate equipped with touch-screen keypad, 480x272 pixel colour display and with 4 status/fault LEDs
Sol System control panels with frontplate equipped with touch-screen keypad, 480x272 pixel colour display and with 4 status/fault LEDs.   
Sol is the new completely wireless professional all-in-one control panel made by Inim. Sol is an easy-to-install, high-design intrusion alarm system capable of fully satisfying all the protection requirements of small residential and commercial premises, even though, thanks to its potential, it is also suitable for more challenging installations. A a modular structure control panel that allows you to manage wireless devices (PIR detectors, dual technology detectors, magnetic contacts, smoke detectors, outdoor sounder/flashers, keypads) by simply adding optional modules: PSTN, GSM, LAN and WiFi modules can be easily inserted into dedicated spaces inside the plastic enclosure where they can be hot-installed for advanced connectivity. The control panel is compatible with all Inim's wireless devices and also has an on-board relay and 2 additional terminals that allow the connection of detectors or wired devices. The central Sol has refined, low-profile aesthetic design features that make it suitable for all types of surroundings thanks to the 3 types of frontplate: 4.3" colour touchscreen, graphic LCD screen and capacitive touch keypad, LEDs only.
Getting the Sol up and running is incredibly quick and easy thanks to a simplified installation procedure based on the QuickGO technology on-board: the InimTech Security App allows quick programming of not only wireless devices but also of many operating parameters thus allowing you to get small installations running in record time.
The Sol is also connected to the Inim Cloud and offers installers and users full information and easy commands that can be activated in a single touch.
Let's talk about DoubleLink Technology: the entire wireless system is bi-directional.
Inim CloudReady: Inim Cloud connectivity for system management and user and installer Apps with push notifications.
WideConnect: PSTN, LAN, WiFi and GSM-3G connectivity.
Easy4User: remote controls, touch screen keypads, traditional keypads, AlienMobile App with multiple possibilities for effective and efficient use of the system.
Table of the main features of Sol systems Sol control panel models 

Sol control panel models 


Sol-30S

Sol-30G


Sol-30P


Partitions                                                                                                                                                                                                      5

Keypads with LCD screens

0

1

0

Readers

1 on I-BUS and 1 on control panel 

Wireless keypads

8

Wireless sounder/flashers

8

Voice slots

1

Touch-screen keypads


0

0
1

Wireless transceivers

1 on I-BUS (Air2-BS200) and 1 on control panel

Electronic and wireless keys

150

Possibility of combinations of keys

4294967296

Sol-3G (GSM/GPRS/2G/3G communicator)

1 (on control panel)

Terminals on control panel configurable as inputs/outputs/roller blind/shock

2

2

2

Sol-PSTN (PSTN interface)

1 (on control panel)

Sol-LAN (LAN interface)

1 (on control panel)

Sol-WiFi (WiFi interface) 

1 (on control panel)

Codes

50

Scenarios

30

Timers

20

Recordable events


4000

Enclosure Dimensions mm (WxHxD)

266x197x51

266x197x51


266x197x51


Weight (without battery)

110 g

110 g

110 g




Technical features


Sol models

6

Versions for the management of up to 30 devices: PIR detectors, dual technology detectors, magnetic contacts, smoke detectors, outdoor sounders, keypads.

2

Frontplate types: 4.3" colour touch-screen, graphic LCD screen and capacitive touch keypad, LED.

3

170 ° frontplate aperture for easy access.


Sì

Ampoule for mounting alignment.


Yes


Wireless transceiver (868 Mhz).


Yes


Configurable terminals for connecting wired inputs (e.g. detectors) or outputs (e.g. relays)

2

Relay

1

Proximity reader on frontplate

Yes


Internal piezoelectric sounder

Yes


I-BUS terminals to connect an extra transceiver and/or proximity reader


Yes


Optional modules


PSTN: voice calls or calls via analogue ARC protocols over hardwired PSTN telephone lines

Yes


3G GSM: voice calls, SMS message sending/receiving, analogue and digital ARC protocols, Inim Cloud connectivity, read/write control panel capability

Yes


LAN: ethernet point-to-point or via Inim Cloud connectivity

Yes


WiFi: wireless LAN connectivity

Yes


Other features


SmartLogos30M: 500 voice messages.

Yes


868/915 Mhz bidirectional: alarm signals via birectional wireless transmission

Yes


Cloud: Inim Cloud platform connectivity.

Yes


AlienMobile for users: App for remote system management and push notifications.


Yes


InimTech Security for installers: App for quick installation of wireless devices via QR-code and quick programming of basic parameters

Yes


Sol / STUDIO, control panel programming software


Yes


Push notifications for faults, tamper and much more

Yes


Centralized management of each system via the Inim Cloud

Yes





Cloud: connectivity of the Inim Cloud platform.

Yes


1.5A power supply


Yes


7.2V 2.2Ah NiMH backup battery.


Yes


Programmable 12 V DC power supply terminal.


Yes

Certifications


EN50131-3

Grade 2

EN50131-6

Grade 2