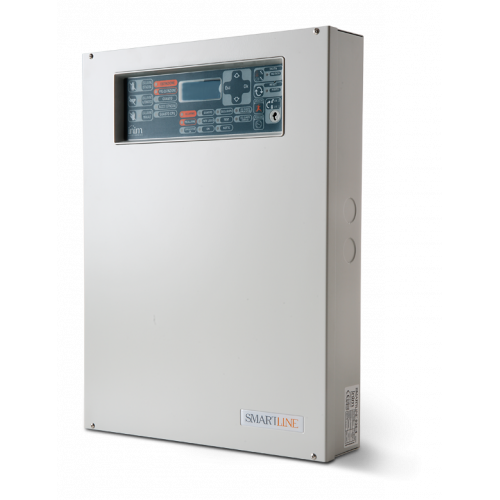 SmartLine036/4Ext
Single-channel fire suppression control panel with 4 conventional zones expandable to 20
The SmartLine036-4EXT extinguishing system is based on the SmartLine036-4 4-zone conventional fire detection system.
The control unit offers 1 SmartLetLoose / ONE extinguishing channel and is able to offer all the functions of the conventional SmartLine036-4 control panel.
The SmartLine036-4EXT extinguishing control unit can be interfaced with the addressed analog control units of the SmartLoop series to provide them with the necessary extinguishing functions.
The interface is via the RS485 connection of which the fire extinguishing plant is equipped. In this way it will be possible to program the SmartLine036-4EXT extinction control unit in order to activate its functions based on local information (conventional zones, extinguishing terminals, stop extinction, etc.) and remote information coming from the SmartLoop control unit.
Absorbed current by accessory boards

SmartLoop/2L

stby:20mA MAX:70mA

SmartLoop/INOUT

stby:40mA MAX:300mA

SmartLoop/NET

stby:40mA MAX:40mA

SmartLoop/PSTN

stby:20mA MAX:60mA

SmartLAN

stby:200mA MAX:200mA

SmartLAN/SF

stby:40mA MAX:40mA

SmartMimic

stby: 5mA MAX:50mA

SmartLoop/LED

stby:40mA MAX:80mA

SmartLoop/PRN

stby:0 MAX:1A

SmartLetUSeep/LCD

stby: 40mA MAX:50mA

SmartLetUSeep/LED

stby: 5mA MAX:50mA