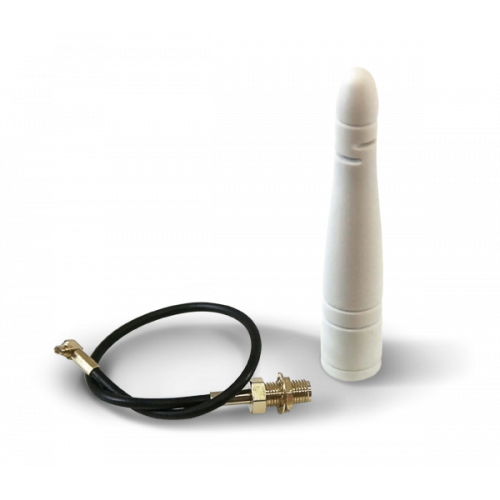 GSM-ANT100B
GSM high-performance antenna (cable mt. 0,2)
Nexus devices are not the usual devices for connecting to cellular networks. They offer excellent performance, integrating with the INIM burglar alarm systems. The installation is simple: they must be connected to the BUS like any other device and can be installed either on the central or in any position reached by the BUS so as to increase the reception quality of the field. Once connected to the control panel, they provide an additional communication channel in addition to the PSTN, a channel from which it is possible to send voice or digital calls over the GSM / 3G network.
The control panels therefore have this second telephone number available, which in addition to answering incoming calls by making the voice menu available with DTMF commands to the enabled users. With Nexus, the control panels send automatic or customizable SMS messages for each event, and the control panels can also receive commands sent via SMS. So you can enable or disable scenarios and outputs, request the status of the device and much more. The same operations are also possible with the recognition of a given caller number (CallerID).
Nexus / G and Nexus / 3G go even further. In addition to all the functions listed above, they allow the management of the stations via the GSM / GPRS / 3G network. The device connects to the IP address programmed in the control panel during installation, or to another IP address that the installer can decide from time to time and set by sending a simple SMS. Shortly after receiving the SMS, the PC connects to the remote post office using the specified IP address. Thus it is possible to activate a remote control session via GPRS / 3G to read / write the control panel programming, even away from the office or with a mobile connection such as "Internet-key", tethering or smartphone hotspots.
Nexus / G and Nexus / 3G make a digital communicator available to the control units to the surveillance stations with the SIA-IP protocol. Nexus / G and Nexus / 3G allow both the installer and the user to access the Inim Cloud or peer-peer services and can be used either as the main device for connecting to the Cloud or as a backup device. lose the connection through the wired LAN channel. A service-enabled SIM card is required to connect to GPRS / 3G networks. It is advisable to analyze the tariff profiles of the various operators to identify the most suitable.
Nexus / G and Nexus / 3G also handle special characters or foreign alphabets. Nexus / 3G is the evolution towards new communication networks in 3G technology.
Nexus, Nexus / G and NEXUS 3G have led status indicators and a practical magnetic antenna with 3 meters of cable.
Main Features


Nexus

Nexus/G

Nexus/3GU

Nexus/3GP

Nexus/4GU

Nexus/4GP

Voice communicator over GSM network

Yes

Digital communicator over GSM network

Yes

Sends pre-set and editable SMS texts for each event

Yes

Activates control panel scenarios via SMS text message

Yes

Activates control panel scenarios via Caller ID (200 numbers)

Yes

Command done SMS text or ring feedback

Yes

Diverts incoming SMS texts

Yes

PSTN and GSM channel priority management for each event

Yes

Answerphone functions and DTMF command management

Yes

Device status viewable on system keypad

Yes

Automatic control of remaining credit

Yes

Emergency report via voice, digital and SMS text communication

Yes

Device status notification via SMS

(remaining credit, operator, faults, etc.)

Yes

GPRS connectivity management

-

Yes

3G connectivity management

-

-

Yes

Yes

-

-

4G connectivity management

-

-

-

-

Yes

Yes

Programming and management of the SmartLiving system via GPRS

-

Yes

IP communicator to alarm receiving centres supporting SIA-IP protocol

-

Yes

UCS2 character set management

-

Yes

Inim Cloud Connectivity

-

Yes

Emergency phone call in the event of complete disconnection with the control panel

No

Yes

No

Yes

Dimensions (WxHxD) mm

59 x 108 x 20

110 x 67 x 24

196 x 111 x 28

110 x 67 x 24

196 x 111 x 28

Weight

60 gr

72 gr

246 gr

(with battery)

77 gr

250 gr

(with battery)