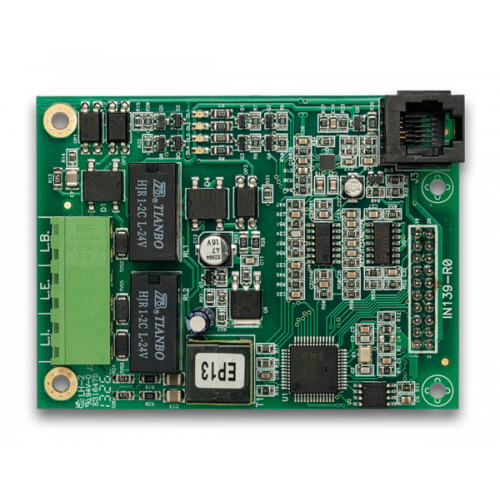 SmartLoop/PSTN
PSTN Voice and digital dialler
The addition of the SmartLoop / PSTN card provides the control panel with the ability to communicate via a PSTN telephone line.

This card manages up to 2 telephone lines and is able to communicate through the most widespread digital protocols (SIA, Contact ID etc.). The card also contains an audio memory where you can record up to 8 messages for use in voice calls.
The two telephone lines are supervised, thus guaranteeing a signal in the event of a failure in the communication lines.
Completely managed by its own microcontroller, it guarantees an emergency call in case of failure of the central microprocessor. The emergency call is also guaranteed when an alarm occurs with the faulty control panel microcontroller (Emergency54 technology).
Control Panel Models

By design

Optional attachment boards

Keypad and Display

48 Status LED board

SmartLoop >2L

SmartLoop PRN

SmartLoop INOUT

SmartLoop NET

SmartLoop PSTN

SmartLAN
SmartLAN/SF

SmartLoop/1010 - P

Yes

Yes

-

Yes

Yes

Yes

Yes

Yes

SmartLoop/2080 - P

Yes

Yes

Yes (Max 3)

Yes

Yes

Yes

Yes

Yes

SmartLoop/1010 - G

Yes

-

-

-

Yes

Yes

Yes

Yes

SmartLoop/2080 - G

Yes

-

Yes (Max 3)

-

Yes

Yes

Yes

Yes

SmartLoop/1010 - S

-

-

-

-

Yes

Yes

Yes

Yes

SmartLoop/2080 - S

-

-

Yes (Max 3)

-

Yes

Yes

Yes

Yes
Absorbed current by accessory boards

SmartLoop/2L

stby:20mA MAX:70mA

SmartLoop/INOUT

stby:40mA MAX:300mA

SmartLoop/NET

stby:40mA MAX:40mA

SmartLoop/PSTN

stby:20mA MAX:60mA

SmartLAN

stby:200mA MAX:200mA

SmartLAN/SF

stby:40mA MAX:40mA

SmartMimic

stby: 5mA MAX:50mA

SmartLoop/LED

stby:40mA MAX:80mA

SmartLoop/PRN

stby:0 MAX:1A

SmartLetUSeep/LCD

stby: 40mA MAX:50mA

SmartLetUSeep/LED

stby: 5mA MAX:50mA