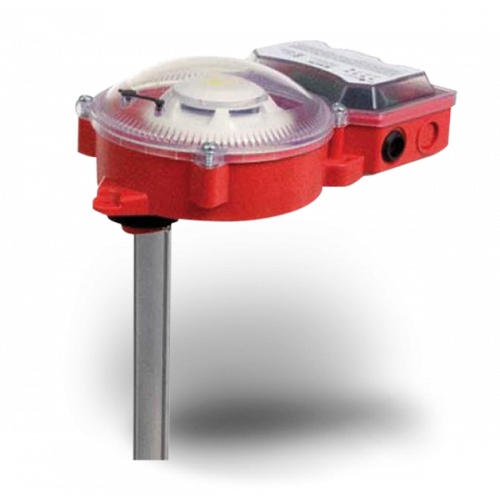 EBDDHN
Universal tube adaptor
Houses all types of detector (analogue or conventional). The detector base (not included) fits inside and is secured firmly in place by means of two screws (included). A practical terminal board makes wiring easy.
It provides early warning of smoke by continually sampling air movement within heating and ventilation ducts in industrial and commercial buildings.
Based on the Venturi principle, this device has been designed to operate with an optical smoke detector and adequate length airsampling tube. It operates at an air velocity of between 0.5m/s to 20m/s.
Single tube air-sampling system
New design sampling tube
Test hole on cover on
Easy installation
Air flow indicator
Filter to reduce dust and other deposits on the detector
Efficient service and easy maintenance
Easy mount sampling tube
Compatible with analogue and conventional systems
Mounting brackets for circular ducts
Technical specifications

DDH dimensions (without tube)

180x183x235mm

DDH weight

700g

Sampling tube length

0,6-1,5-2,8m

Air velocity

0,5/20ms