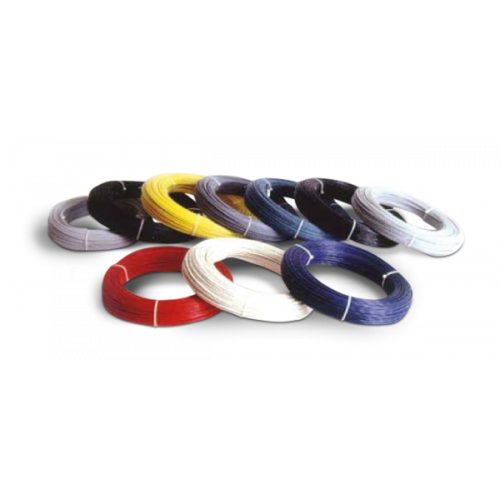 Thermosensitive cables
Linear Heat Detectors - Special Detection
On account of their reliability, performance, ease-of-use and reduced-cost, linear heat detectors are appropriate for all types of installations with a provision for detection by way of temperature control.
Linear heat detectors are also suitable for installation in explosive atmospheres (classified areas), when equipped with devices capable of limiting the supply voltage (for example, intrinsic linear barrier).
Thermosensitive cables fall into 4 categories determined by the external sleeve. Each of the four categories is further divided into sub-categories determined by the alarm temperature.
EPC type cable
XLT type cable
XCR type cable
EPC type cable with durable vinyl outer racket. Intended for use in commercial and industrial applications. Good resistance to common chemicals.
XLT type cable with proprietary flame retardant polymer outer jacket. Intended for use in cold storage facilities and applications that require a low alarm activation temperature such as railway and motorway tunnels.
XCR type cable with durable flouropolymer outer racket. Good resistance to common chemicals and acids.
EPC type cable
| | | | |
| --- | --- | --- | --- |
| Model | Alarm Temperature | Installation Temperature | Certification |
| EPC155 | 68°C | 40 ÷ +38° C | UL, FM |
| EPC190 | 88°C | -40 ÷ +66°C | FM |
| EPC220 | 105°C | -40 ÷ +79°C | UL, FM |
XLT type cable
| | | | |
| --- | --- | --- | --- |
| Model | Alarm Temperature | Installation Temperature | Certification |
| XLT135 | 57°C | -57 ÷ +38°C | UL, FM |
XCR type cable
| | | | |
| --- | --- | --- | --- |
| Model | Alarm Temperature | Installation Temperature | Certification |
| XCR155 | 68°C | -40 ÷ +38°C | UL, FM |
| XCR190 | 88°C | -40 ÷ +66°C | UL, FM |
| XCR220 | 105°C | -40 ÷ +79°C | FM |
| XCR280 | 138°C | -40 ÷ +93°C | UL, FM |
| XCR356 | 180°C | -40 ÷ +121°C | UL, FM |