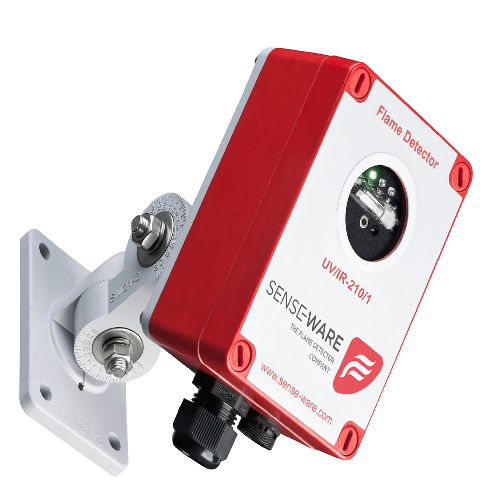 UV/IR-210/1
UV/IR flame detector for fire detection systems
The UV/IR-210/1 flame detector is designed to quickly intercept flames resulting from the combustion of hydrocarbons and hydrogen through the combined action of ultraviolet and infrared rays.
The simultaneous detection of radiant energy by the UV and IR sensors triggers the fire danger signal and ensures a high level of immunity to false alarms caused for example by solar radiation.
Suitable for type 2 ATEX zones or NON ATEX classified zones, the device is equipped with a GRP (fiberglass) casing.
Features of the UV/IR-210/1 flame detector
high immunity to false alarms
triple-infrared detector
alarm relay and fault relay
4-20 mA module
Technical specifications of the UV/IR-210/1 flame detector
Power supply voltage: 10 - 28 Vdc

Power consumption: from 25 to 40 mA
IP Class: IP65
Range of view: 0.09m² n-heptane at 23m
Sensitivity: Class 2 (EN54-10)
Coverage angle: 90° cono
Response spectrum: UV: 185 - 260 nm / IR : 2.7  μm
Operating temperature: -25° C to + 70° C