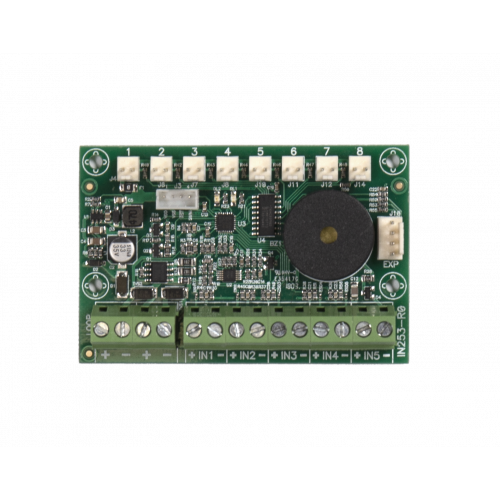 EM500
Module for synoptic panels on loop
The EM500 consists of two separate units (both supplied):
- Module EM500 – Connects to and feeds directly from the Loop, provides 8 LED driver connectors (supplied) and 5 input terminals. Each of the 8 LEDs can be configured to activate in response to any condition, each of the input terminals can be used for any function.
- The EM500-EXP expansion module – Connects to the EM500 module via a connection wire (supplied) and adds a further 24 LEDs (supplied). Each LED is configurable, requires ancillary power supply voltage (24V DC).

| | | |
| --- | --- | --- |
| Technical features | EM500 | EM500-EXP |
| Power supply voltage | 22 – 30Vdc | 22 – 30Vdc |
| Stand-by current draw |  0,2 mA | 2,5 mA |
| LEDs maximum current draw | 5 mA | 20 m |
| Operating temperature | da -5 a 40° C | da -5 a 40°C |
| Dimensions | 80 x 53 mm |  80 x 53mm |