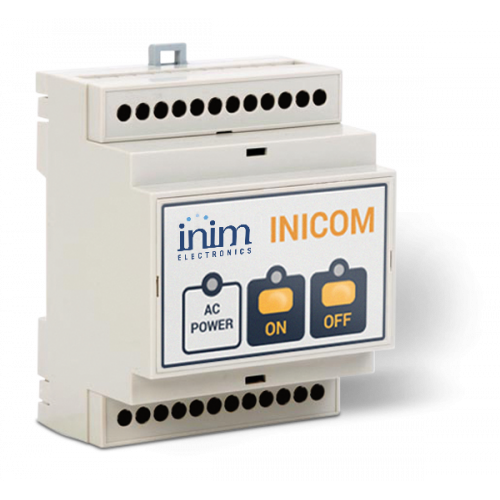 INICOM
Controller for the remote management of rest mode
In emergency lighting systems with autonomous lighting devices, the inhibitory circuit is the ancillary circuit that performs the controlled shut off of lighting devices during emergency functioning.
In large, complex systems inhibition of emergency lighting devices is a particularly difficult problem to solve in accordance with regulations. In fact, when considering devices in which shut off occurs when lines open or close, a solution is possible only when in the vicinity of the lighting device itself. This is to prevent accidental causes (e.g. drilling, masonry work, etc.) or disastrous events (e.g. earthquakes, fire, etc.) from interrupting or short-circuiting the inhibitory wiring and provoking absence of intervention during an emergency.
Use of a remote control device is a solution to the problem in that:
it launches a pulse that is stored in the device, after which the line no longer has any influence over shut off/inhibition;
when the lighting network restores, the "ready for emergency" status will reset automatically in the device and the shut off/inhibition command will be forgotten, thus avoiding the risk of forgetfulness on behalf of the operator, which is quite possible when a manual switch is used for shut off/inhibition operations.
description

Product type

Controller for the remote management of rest mode

technical specifications

Installation

DIN rail (4 modules)

Power supply

220/230Vac, 50-60Hz

Battery

LiFePO4 3,2V

Outputs

2

Total number of controlled luminaires

150

Insulation class

II

Working temperature

from 0° to 50°C

Compliant to standards

EN 60598-2-22