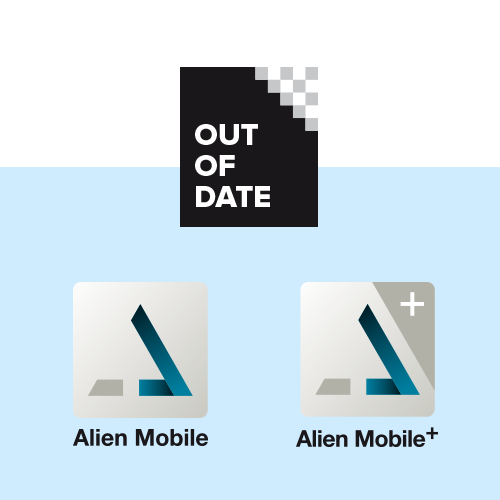 AlienMobile
Product no more updated from the end of June 2020
AlienMobile and AlienMobile+ will no longer be updated. Inim guarantees the maintenance and updating of AlienMobile and AlienMobile+  Apps until the end of June 2020.

It is possible that unforeseeable malfunctions in these Apps may occur in the future due to the evolution of the operating systems and smartphone hardware. 

We therefore invite all users to use the new Apps.

InimHome in the case of connection of control panels via INIM Cloud and InimHomeP2P in the case of control panels connected in peer-to-peer mode.

Date 9th March 2020

The current technological panorama is populated by an ever more attentive average user with regard to mobile connectivity and interactivity.
Nowadays, users perceive smartphone and tablet Apps as being the quickest and easiest way of accessing content, information and functions. It is within this framework that INIM developed the AlienMobile App, which fully satisfies the need for an application that delivers 360 degree connectivity for Inim systems.
The AlienMobile App allows users to manage Inim systems by simply entering antintrusion/home-automation commands on their mobile devices, regardless of the time of day or where they happen to be.
The configuration of AlienMobile with the control panel is simple and straightforward. By presenting the same interface as the Alien touchscreen and SmartLan/G webserver, INIM completes a coordinated ecosystem of interfaces which allow the user to navigate in an immediately recognizable environment with familiar, easy-to-use commands. The AlienMobile App fits different screen sizes, automatically control screen rotation horizontally or vertically and has a smart up-to-the-minute design.
The App is available in two versions:
AlienMobile (totally free), which allows the management of an installation with its basic functions, ideal for those who have not special needs or complex systems, and AlienMobile+, with all features available and really complete capabilities.
It offers a complete set of functions that, with a few finger taps and swipes, allows users to arm/disarm the intrusion control system, access customized scenarios, make status enquiries, access the events log, switch on air-conditioning, sprinkler systems and lights and much more. The application allows easy management of SmartLiving and Prime systems. Thanks to its multi-system management capabilities, it is possible to control and interact with many control panels, without limitations. This means you have thoroughgoing control of all the systems in use (house, office, factory premises).
AlienMobile+ offers the chronothermostat function, that allows control of up to 15 thermal zones - and also manages security cameras. It allows interaction with security cameras and control of movement, it provides a multi-viewing function (up to 4 security cameras at once) and is capable of being associated with various security cameras on assorted Inim systems. SMS management allows the synchronization of messages configured in the control panel and their forwarding as commands via App. But there's more.
With AlienMobile+ users can access the Inim Cloud services, by obtaining so the possibility to receive push notifications related to alarm, faults, arming/disarming and connection status. Connecting to the Cloud is simply done by using the user ID and password used for accessing the Inim Cloud.
AlienMobile and AlienMobile+, with their interface with large, intuitive, easy-to-use icons, are available on Google Play for Android Systems and on App Store for iPhone and iPads.

Apple and the Apple logo belong to Apple Inc., registered in the US and other countries.
iPhone is a registered brand of Apple inc.; Apple Store is a registered service of Apple Inc.
Google Play and Android are registered brands of Google Inc..
Main Features

AlienMobile

AlienMobile+

Manages Scenarios

Yes

Yes

Manages Zones

Yes

Yes

Manages Partitions

Yes

Yes

Home Automation Commands

Yes

Yes

Control panel management

Cloud and P2P

Cloud and P2P

Number of control panels

Unlimited

Unlimited

Chrono-thermostat function

-

Yes

Security Cameras management

-

Yes

Commands via SMS

Yes

Yes

Push notifications

-

Yes (with Inim Cloud)