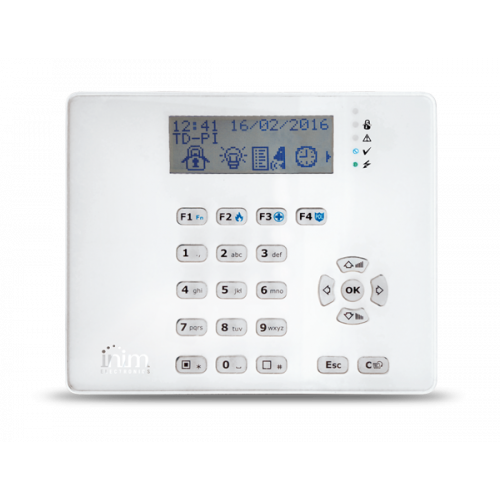 Air2-Aria/W
Wireless keypad with graphic backlit display for management of Inim Security System
The Aria/W is a wireless keypad that provides all the functions for full control and management of the Inim  system through the Air2 system, which it interfaces with through the Air2-BS200 transceiver. It integrates all the functions present on Concept hardwired keypads and provides a graphic display with user-friendly icons and 4 easy-to-use function keys.
The Aria/W keypad is equipped with both a wall and table mounting bracket which allow this versatile device to blend neatly with all types of furnishing solutions. Its elegant design allows it to be located on view on a table or shelf.
Its accelerometer provides both anti-tamper and "wakeup" from standby functions, while the brightness sensor adjusts the display and key brightness in accordance with the surrounding ambient. Additionally, it has an automatic shutdown function in the event it is moved out of wireless range.
It is important to note that the battery has a two year life. The Aria/W is also equipped with a connector that allows, if required, hardwired power-up.
Features of the wireless Air2-Aria/W keypad

Communication with Air2-BS200 transceiver

Two-way

Backlit graphic display

Yes

Easy4U icon interface

Yes

Programmable backlight in operation

Yes

Anti-glare sensor

Yes

4 signal LEDs

Yes

Signal buzzer

Yes

Protection

Anti-opening and anti-dislodgement protection

Accelerometer controlled "wakeup" function

Yes

Mounts to "503" box

Yes

Table bracket

Yes

Optional 6-20 Vdc power-supply connector

Yes

Battery

CR17450 (2)

Battery life

2 years

Dimensions (HxWxD):

114x139x24 mm

Weight

275 g
Air2-Aria/WB: wireless keypad with graphic backlit display for management of SmartLiving system, in white.