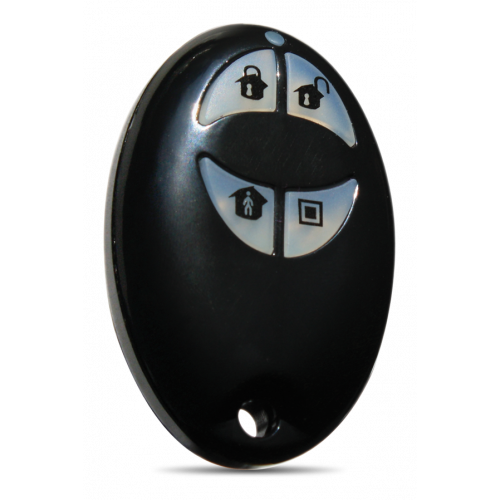 Air2-KF100/S
Wireless key (two-way) with 4 programmable buttons
The Wireless Keys by means of a two-way transmission channel with the monitoring software, is capable of producing a visual feedback signal on its LED indicator.

The Wireless Key it has 4 control buttons which can be programmed through the control panel. This remote-control device also allows the user to arm/disarm the intrusion control system and open/close a gate or turn On/Off lights, it also provides an audible feedback signal indicating the successful outcome of requested operation.
The Wireless Key provides a "lock keyfob" option which protects the keyfob against accidental operations.
In addition to the classic KF100/S wireless Key, simple and practical, the choice has been extended with two latest generation devices that combine functionality and attractive design: KF Pebble/S and KF Ergo/S, available in different colors.

Technical features of the Air2-KF100/S, KF PEBBLE/S e KF ERGO/S

Communication with transceiver Air2-BS200

Two-way

Buttons

4

Buttons functions

Programmable as control-panel shortcuts (arm, disarm, bypass, output activation, etc.)

Notifier LED

6, for command executed signals

Signalling Buzzer

Multitone

Loch keyfob

Yes

Battery

CR2032

Battery life

5 years

Dimensions (HxWxD)

61x41x12mm

Weight

15g
Air2-KF100/S: Wireless Key (Two-way) with 4 programmable buttons. Black Color.