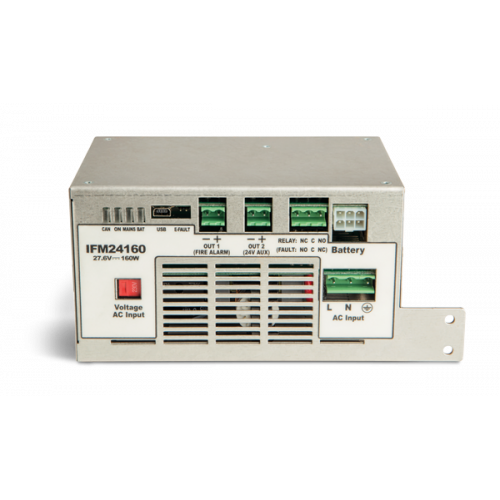 IFM24160
Switching power-supply module
Connects to the mains power supply and supplies a maximum 4A current to the system.
Houses a 1.5A battery charger capable of maintaining under charge two 17Ah or 24Ah batteries.
Offers two supervised outputs and a configurable relay output (at factory default configured as Alarm output, AUX output and fault signalling relay).
Accepts 230Vac or 115 Vac 50/60 Hz input
Each metal cabinet is capable of housing one power-supply module only.
Each control panel is capable of managing up to 4 powersupply modules (one per cabinet).
IFM series modules connect to the CAN drive bar on the inside of the cabinets (max. 8 IFM modules per cabinet) depending on the required functions.

For the certification documents, refer to the relative control panel page in which the module is installed.