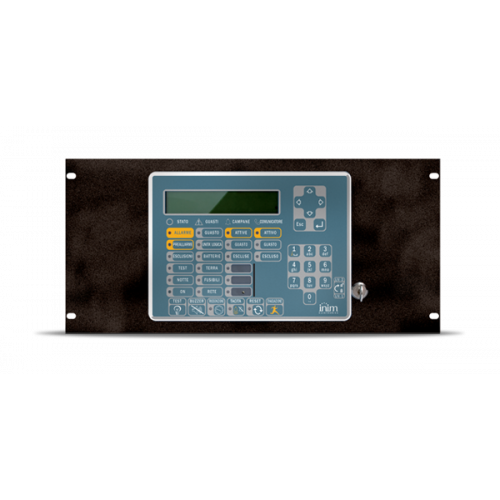 SmartLetUSee/LCD-RK
Remote control and display panel with LCD display for mounting on RACK 19"
It is an optional keyboard equipped with LEDs, keys and display that replicates all the functions of the control panel front panel, ready for 19 "rack mounting, the keyboard occupies 5 units on the cabinet.

Each SmartLoop control unit manages up to 14 repeaters that can be connected up to a distance of 1000 m from the control panel.
The connection to the control panel is via the RS485 bus, always present on the motherboard of the control units.
Absorbed current by accessory boards

SmartLoop/2L

stby:20mA MAX:70mA

SmartLoop/INOUT

stby:40mA MAX:300mA

SmartLoop/NET

stby:40mA MAX:40mA

SmartLoop/PSTN

stby:20mA MAX:60mA

SmartLAN

stby:200mA MAX:200mA

SmartLAN/SF

stby:40mA MAX:40mA

SmartMimic

stby: 5mA MAX:50mA

SmartLoop/LED

stby:40mA MAX:80mA

SmartLoop/PRN

stby:0 MAX:1A

SmartLetUSeep/LCD

stby: 40mA MAX:50mA

SmartLetUSeep/LED

stby: 5mA MAX:50mA