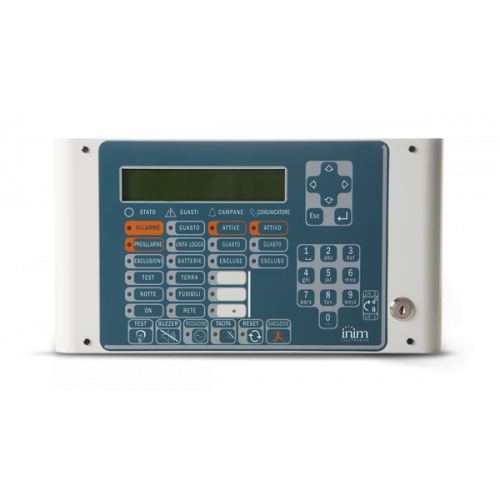 SmartLetUSee/LCD
SmartLetUSee/LCD – Remote LCD Repeater panel
This LCD repeater panel is equipped with LEDs, a keypad and display.
It replicates all the functions of the main control panel and is ideal for installation in remote locations where system information and manual control are required.
The RS485 BUS, on the SmartLoop control panel motherboard, is capable of accommodating up to 14 Repeater panels which can be mounted as far as 1000 metres from the main unit.
Absorbed current by accessory boards

SmartLoop/2L

stby:20mA MAX:70mA

SmartLoop/INOUT

stby:40mA MAX:300mA

SmartLoop/NET

stby:40mA MAX:40mA

SmartLoop/PSTN

stby:20mA MAX:60mA

SmartLAN

stby:200mA MAX:200mA

SmartLAN/SF

stby:40mA MAX:40mA

SmartMimic

stby: 5mA MAX:50mA

SmartLoop/LED

stby:40mA MAX:80mA

SmartLoop/PRN

stby:0 MAX:1A

SmartLetUSeep/LCD

stby: 40mA MAX:50mA

SmartLetUSeep/LED

stby: 5mA MAX:50mA