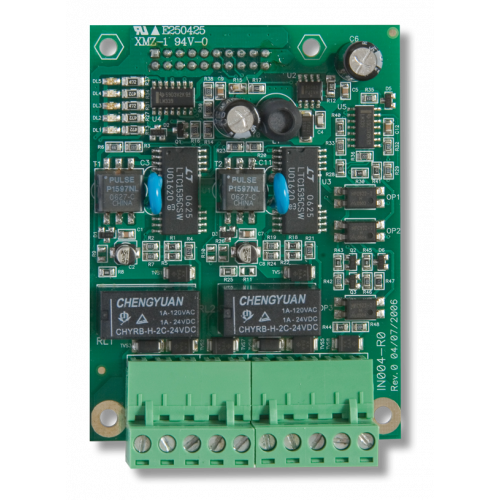 SmartLoop/NET
SmartLoop HorNet network board
The SmartLoop/NET board allows the control panel to be configured in a SmartLoop HorNet network (token-ring).
The ring can be created using a 3 pole cable. The maximum cable length of 2000 meters (allowed between each control panel) provides a highly fault-tolerant network.
Using a supplementary 2 pole cable (5 poles in all), you can create a protection ring which can pass alarm conditions coming from a fire control panel with microprocessor fault, through the ring thus ensuring maximum reliability (Emergency54 technology).
Control Panel Models

By design

Optional attachment boards

Keypad and Display

48 Status LED board

SmartLoop >2L

SmartLoop PRN

SmartLoop INOUT

SmartLoop NET

SmartLoop PSTN

SmartLAN
SmartLAN/SF

SmartLoop/1010 - P

Yes

Yes

-

Yes

Yes

Yes

Yes

Yes

SmartLoop/2080 - P

Yes

Yes

Yes (Max 3)

Yes

Yes

Yes

Yes

Yes

SmartLoop/1010 - G

Yes

-

-

-

Yes

Yes

Yes

Yes

SmartLoop/2080 - G

Yes

-

Yes (Max 3)

-

Yes

Yes

Yes

Yes

SmartLoop/1010 - S

-

-

-

-

Yes

Yes

Yes

Yes

SmartLoop/2080 - S

-

-

Yes (Max 3)

-

Yes

Yes

Yes

Yes
Absorbed current by accessory boards

SmartLoop/2L

stby:20mA MAX:70mA

SmartLoop/INOUT

stby:40mA MAX:300mA

SmartLoop/NET

stby:40mA MAX:40mA

SmartLoop/PSTN

stby:20mA MAX:60mA

SmartLAN

stby:200mA MAX:200mA

SmartLAN/SF

stby:40mA MAX:40mA

SmartMimic

stby: 5mA MAX:50mA

SmartLoop/LED

stby:40mA MAX:80mA

SmartLoop/PRN

stby:0 MAX:1A

SmartLetUSeep/LCD

stby: 40mA MAX:50mA

SmartLetUSeep/LED

stby: 5mA MAX:50mA