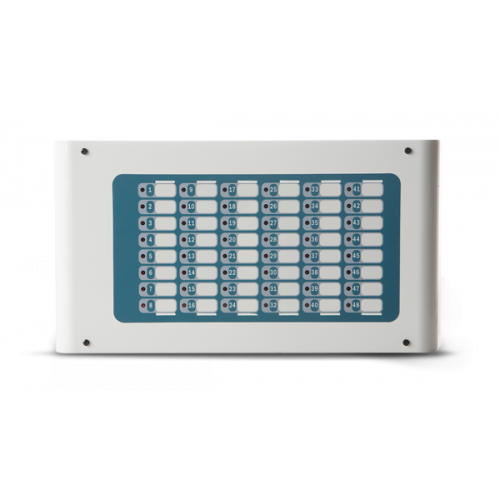 SmartLetUSee/LED
Remote LED Repeater panel
It is an LED display panel.

The panel offers 48 freely programmable LEDs to signal situations of interest to the points of the loops, the central areas or the system as a whole (alarms, pre-alarms, faults, etc.). Each LED provides the possibility of being characterized by a written for a simple identification of the highlighted situation.
This device connects to the SmartLetUsee / LCD remote control panel by means of a flat cable (supplied with the device) and together with it offers the maximum possibility of control and visualization.
Absorbed current by accessory boards

SmartLoop/2L

stby:20mA MAX:70mA

SmartLoop/INOUT

stby:40mA MAX:300mA

SmartLoop/NET

stby:40mA MAX:40mA

SmartLoop/PSTN

stby:20mA MAX:60mA

SmartLAN

stby:200mA MAX:200mA

SmartLAN/SF

stby:40mA MAX:40mA

SmartMimic

stby: 5mA MAX:50mA

SmartLoop/LED

stby:40mA MAX:80mA

SmartLoop/PRN

stby:0 MAX:1A

SmartLetUSeep/LCD

stby: 40mA MAX:50mA

SmartLetUSeep/LED

stby: 5mA MAX:50mA